Experience the Joy of Reconnecting with Other Women
We are made for community!  Our souls thirst for connection!
In a world where women are measured by their beauty, achievements, and possessions, wouldn't it be nice to find a place where you could just be valued for who you are?  Come and drop your burdens, then open your heart so it can be refreshed and strengthened.  Walking with Purpose reaches out to women who desire to grow in their faith using a Scripture-based program that is fresh, relevant, and focused on growing in knowledge and wisdom without being overly academic.
Walking with Purpose is a parish-based Bible study program for adult women, young and old.  Run by local lay women volunteers, approved by parish pastors, and supported by Walking with Purpose national staff, our parish program welcomes all women irrespective of faith background, age, or marital status.  The program incorporates at-home Scripture study, weekly small group discussion, and monthly talks on relevant study material.  We hope you will prayerfully consider all options to see what fits into your life, but also what challenges you and refreshes you.   You just might need this to fill yourself up for all that is required of you these days!  Subscribe to their blog at www.walkingwithpurpose.com/blog/.
---
"Reclaiming Friendship" –  God's Plan for Deep Connection  
Fall 2021 study starts September 21 and 22,  2021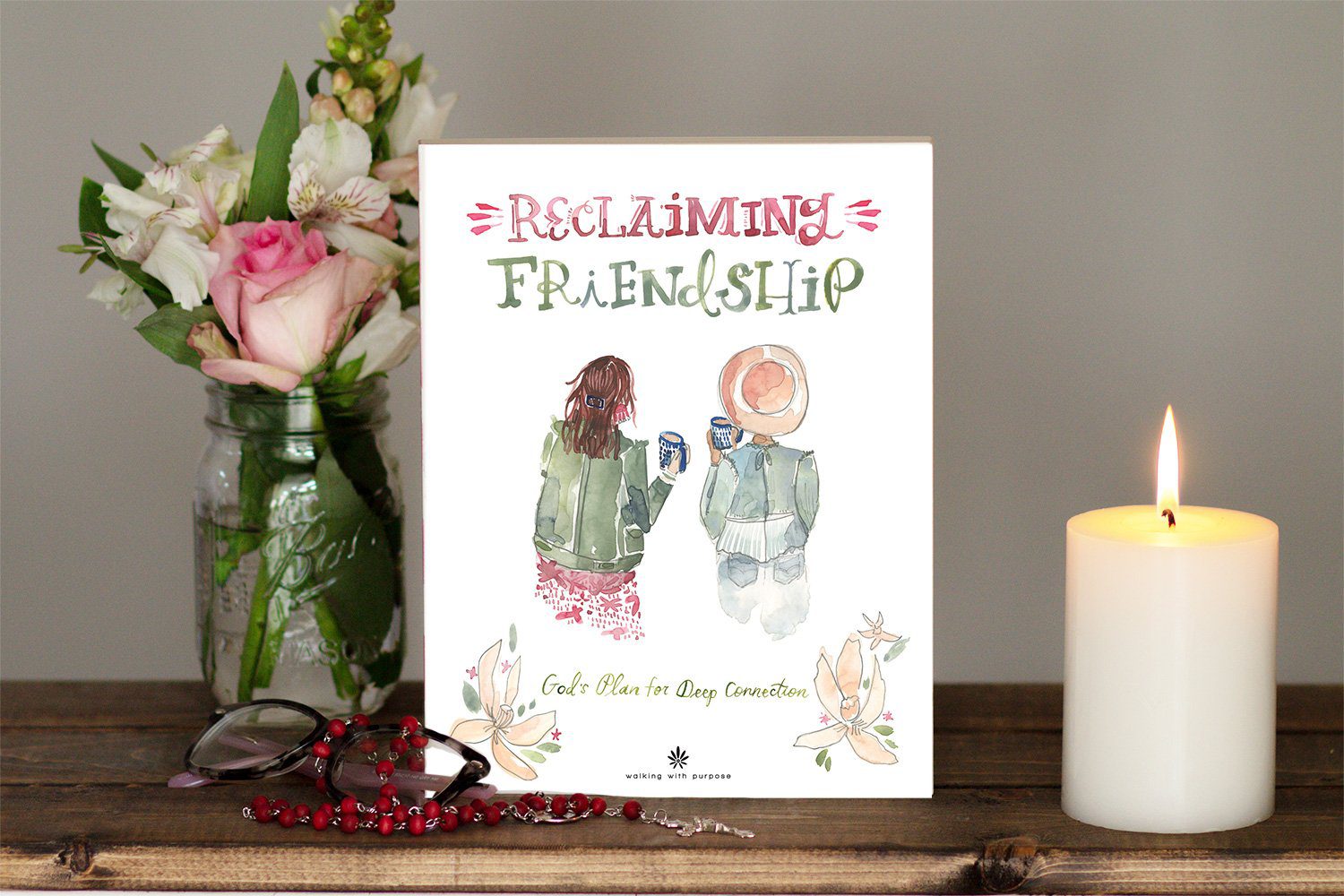 Do you desire lasting and abiding friendships?  Do you want to move beyond the past hurts of relationships gone wrong?  Reclaiming Friendship was written for any woman who wants a true and deep connection that lasts. Explore what it takes to stay close for the long haul, what to look for in a friend, and how to navigate toxic relationships.  There is a way to protect your heart without closing yourself off from future intimacy.  The key is found in discovering God's plan for friendship, which was meant to be a foretaste of Heaven.
In a world plagued by loneliness, you are invited to encounter God personally through Scripture.  Let God reshape how you see and experience intentional relationships, deal with your past friendship wounds, and become a woman who is capable of the lifelong bond of true friendship.  Reclaiming Friendship, our six-lesson Bible study is ideal if you…
– Are lonely and desire lasting friendships
– Need to know and understand what it means that God created each of us in His image
– Crave an authentic community, the kind in which we experience His joy and goodness
There are two time options to fit your schedule:
In-Person Groups – Tuesday evenings, 6:45 – 8:30 PM  OR  Wednesday mornings with babysitting 9:45 – 11:00 AM
Corbett Hall and on ZOOM.  Fellowship and discussion will be awesome!  
Download the registration form and drop off the form with payment  ( $ 40.00 ) at the Parish office (secure dropbox is available after hours) OR click here to pay securely online.
Contact Cappy Foley for information:  cmfoley@att.net,  or 770-265-7755
---
Walking with Purpose Weekly Rosary for Women via ZOOM Fridays at 11:00 AM
The parish Walking With Purpose Bible Study would like to invite all women of the parish to pray the Rosary with us WEEKLY on Zoom, starting in September.  Specifically, we will be praying for our world and our country amid Coronavirus, and the health, wellbeing, and special intentions of the women and families of our parish.
Contact Cappy Foley for information:  cmfoley@att.net,  or 770-265-7755 to join in.