Order ONLINE before November 15 and save 10%  (automatic discount)
Why buy your premium 6 ft. to 10 ft. North Carolina Fraser Fir Christmas tree from Saint Brigid?
JOY guaranteed!
The lot is staffed by joyful parish volunteers.  Make your Christmas tree a GIVING TREE; all proceeds provide much-needed assistance to charities within and around the Saint Brigid Community.  Satisfaction guaranteed.  You can return it for another tree or receive your money back.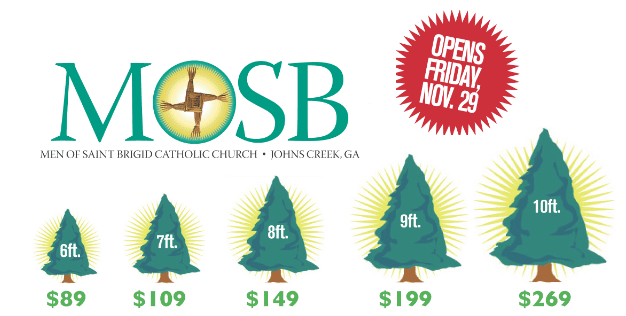 Tree Lot Hours:
Monday – Friday: 6:00 p.m. – 8:00 p.m.
Remaining Weekends – 10:00 a.m. – 9:00 p.m
Order at www.saintbrigid.org/mosb.   (visit to also volunteer too, Ho, Ho, Ho!)