Our beloved parishioner and Deacon, the Rev. Mr. David Lee Briselden, born on February 26, 1944, entered in eternal rest, on Monday, July 29, 2019.   Ordained on Nov. 15, 1986, in the Catholic Diocese of Little Rock,  Deacon David and his wife Patti have served at Saint Brigid since October of 2011.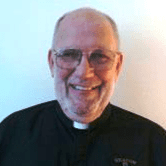 Please join his family for a special Rosary Service Monday, August 5 at 7:00 PM and his Mass of Christian Burial on Tuesday, August 6, 2019,  at 11:00 AM in the Sanctuary.  All are invited to attend a reception immediately following Mass in Corbett Hall.
In lieu of flowers, the family requests a tribute gift be made in his memory to the Multiple Sclerosis Program at the Shepherd Center in Atlanta.  Donations may be made online at https://www.shepherd.org/giving/charitable-giving, or call 404-350-7306.
His family has asked guests to wear color as this is a celebration of life!
Requiescat in pace!