Saint Brigid Youth Ministry presents a seminar about how to protect our children from the dangers of pornography on January 15, 2020, at 7:00 PM in Corbett Hall.   All parents of children in grades kindergarten and up are encouraged to attend.
This very important talk will:
• Discuss the possibilities and pitfalls of the internet
• Empower you to form within your child an internal filter for the unfiltered world in which we live
• Share the best online tools to help you protect your child
• Help you talk to your elementary-aged child about porn and human sexuality, on his level
• Give you hope in an area that can seem overwhelming to parents
Did You Know?
70% of TV shows most watched by teens contain sexual content The average age that a boy will be exposed to adult content is 11 years old.
Studies show by the time they turn 14, 2 out of 3 teen boys regularly watch pornography
32% of teens admit to intentionally accessing pornographic material – of that 43 % said they do so on a weekly basis                                                (Statistics found on fightthenewdrug.com)
Listen to short 10-minute preview:
Matt Fradd speaks to tens of thousands of people every year. He is the best-selling author of several books, including "The Porn Myth: Exposing the Reality Behind the Fantasy of Pornography".   Matt earned his master's and undergraduate degree's in philosophy from Holy Apostles College.  Matt's podcast  'Pints With Aquinas' receives hundreds of thousands of downloads every month, and he founded the websites www.theporneffect.com and www.integrityrestored.com.  Matt lives with his wife, Cameron, and their children in Georgia.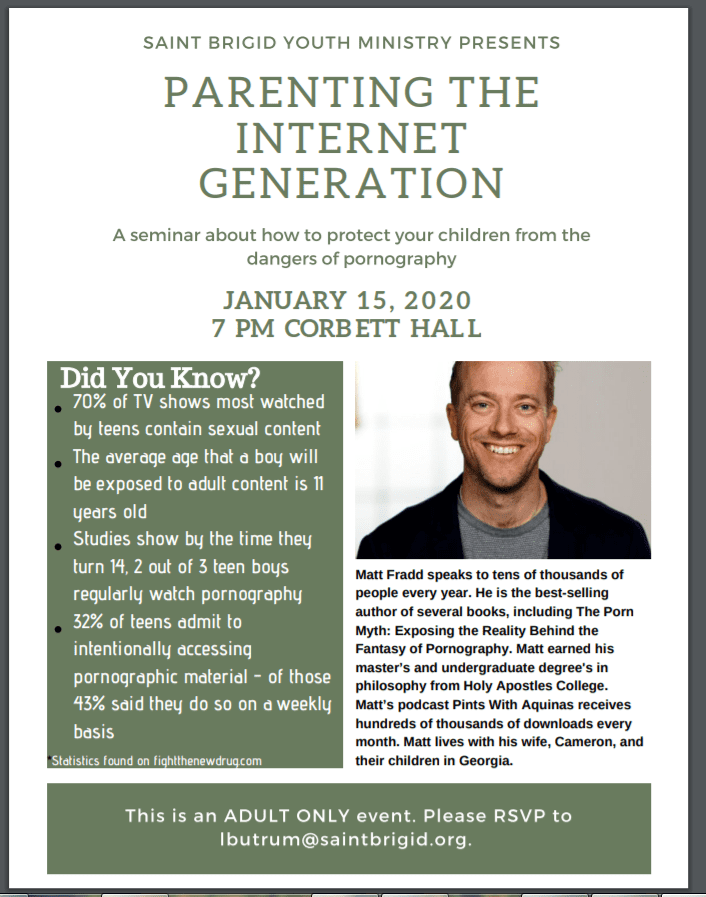 This is an ADULT ONLY event.  Please RSVP to Leigh Ann at butrum@saintbrigid.org.
Parenting the Internet Generation Matt Fradd 2019 Flyer