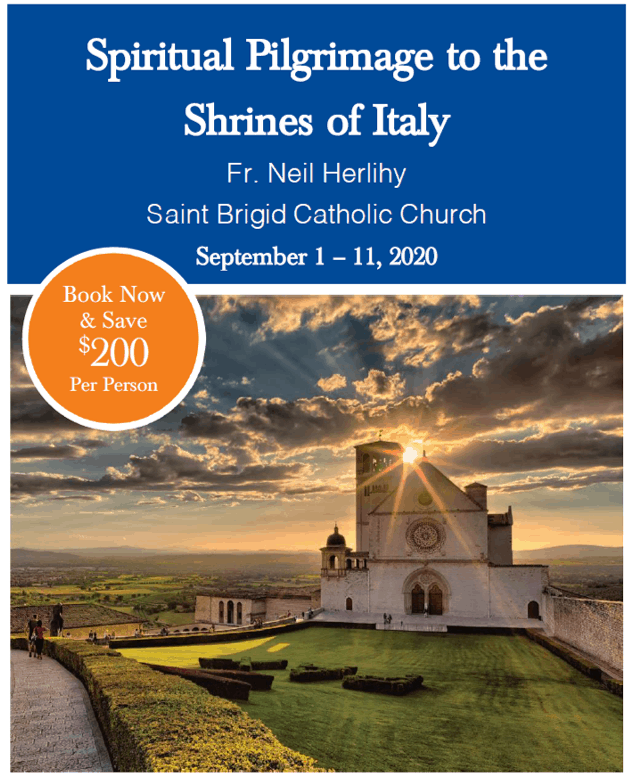 Click the picture above for the brochure (itinerary) 
  "Collette's Faith Spiritual Journeys" collection of religious tours has been created with our faith-based travelers in mind. The focus is on creating inspiring travel experiences in world-famous spiritual locations, and these itineraries are designed utilizing more modest accommodations that capture the reflective surroundings in which they sit. 
Collette Experiences
 Spend time at the renowned Abbey of Montecassino, founded by St. Benedict.
 Join a local expert for a fascinating tour of Assisi.
 In Pompeii, visit the Madonna del Rosario Sanctuary.
Must-See Inclusions
 Attend the weekly Papal audience at Vatican City.
 Stroll through the catacombs of Rome where early Christians hid and buried their dead.
 Discover the Holy House of Nazareth and the beautiful Madonna of Loreto.
Culinary Inclusions
 Enjoy regional wines with every included dinner.
Highlights
Rome, Basilica of St. Francis of Assisi, San Giovanni Rotondo, Tomb of Padre Pio, Abbey of Santissima Trinita, Madonna del Rosario Sanctuary, Vatican City, Papal Audience, Christian Rome City Tour, St. Mary Major, St. John in Lateran, St. Peter's Basilica, and a full day in Florence including the Cathedral of Santa Maria Del Fiore and the Baptistery doors.
* Book Now and Save $ 200.00 Per Person
11 Days ● 15 Meals: 9 Breakfasts, 6 Dinners Book Now & Save $200 Per Person:
Double $4,499; Single $5,099; Triple $4,469
 * Double $4,299* Single $4,899; Triple $4,269
For bookings made after Apr 06, 2020, call for rates.
Included in Price: Round Trip Air from Hartsfield Intl Airport, Air Taxes and Fees/Surcharges, Hotel Transfers
Not included in the price is the Cancellation Waiver and Insurance of $329 per person.
* All Rates are Per Person and are subject to change, based on an air-inclusive package from ATL
Upgrade your in-flight experience with Elite Airfare, the additional rate for Business Class $4,690.
† Refer to the reservation form to choose your upgrade option.
IMPORTANT CONDITIONS: Your price is subject to increase prior to the time you make full payment. Your price is not subject to increase after you make full payment, except for charges resulting from increases in government-imposed taxes or fees. Once deposited, you have 7 days to send us written consumer consent or withdraw consent and receive a full refund.
Contact Sharon Massey for details at smassey@saintbrigid.org or 770-823-1086. 
View and Download Reservation and Payment Forms