In the Archdiocese of Atlanta, the Sacrament of Confirmation is usually received in 10th grade.  Preparation for Confirmation at Saint Brigid begins in winter of 9th grade.
Confirmation 2019
Confirmation 2019 is underway!   See the calendar link above for dates and events.
Registration for Confirmation 2020 will begin on Dec 1, 2019.
Contact the Confirmation team with any questions at Confirmation@saintbrigid.org
---
Prerequisites
To be eligible for Confirmation at Saint Brigid, each candidate must:
Have already received the Sacraments of Baptism and First Communion
Be a registered member of Saint Brigid Catholic Church (or receive special permission from the pastor of your home parish)
Commit to attending weekly Sunday Mass
Confirmation Timeline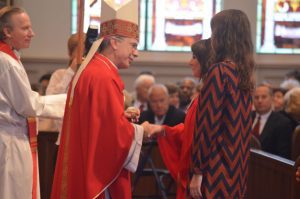 Registration: Most students register for Confirmation in December of the 9th grade year.
Winter Classes: There are five classes on Sunday afternoon OR Wednesday evening in February/ March. (See Program Calendar for dates)
Summer "Confirmation Camp" is a 4-day program at Saint Brigid.   There will be two weeks in June to choose from.
Fall Events:  Fall events include a Sponsor/Candidate Program and Retreat Day in October.
November: The Sacrament of Confirmation is usually celebrated in November of 10th grade.
All teens to be confirmed will attend all classes and events, regardless of the high school they attend.
Older Students:  Confirmation is typically received in 10th grade, but any teen up to the age of 17 can participate in this program and receive Confirmation. Current 10th and 11th grade students are welcome to register!
FAQ: What about Edge?  Students that do not attend Catholic school should attend the Middle School Edge program in 7th and 8th grade. 
FAQ: What about Lifeteen?  Lifeteen is not a required part of the Confirmation program, but we strongly encourage all students to participate in Lifeteen and the Sunday night Life Nights. See the Lifeteen page for more information!
We look forward to helping you prepare your teen for Confirmation.
Deacon Leo Gahafer, Cindy Soder, Kathy Hogan  —  Confirmation Team        confirmation@saintbrigid.org
---
Links to Documents: