We're on a mission…
To transform the sidewalk in front of every abortion facility in America and beyond into a place of real help and hope and END ABORTION.
Sidewalk Advocates for Life Training
Monday, April 25th, 9:00 AM to 3:00 PM, RM 135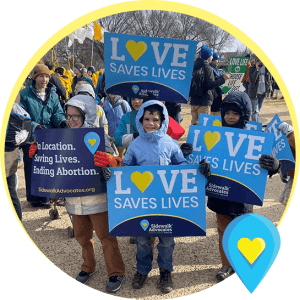 Saint Brigid Catholic Church is hosting a training on how to counsel abortion-minded people on the sidewalk outside abortion clinics.  The cost is $ 25.00 per person. Registration is required. This also includes training, manual, and lunch. 
For information about this organization, please visit https://sidewalkadvocates.org. This training is open to all.
We give thanks to all the Christ-filled women and men who attend these sessions in preparation for going out on the sidewalk to reach out to moms in crisis, to offer real help and hope, and to SAVE LIVES! Is God calling YOU to the sidewalk?
Fill out this form and provide payment below:
Sidewalk Advocates for Life Training 4-25-2022
Respect Life Training - Payment of $ 25 is required per person for registration. You do not need to create an account.