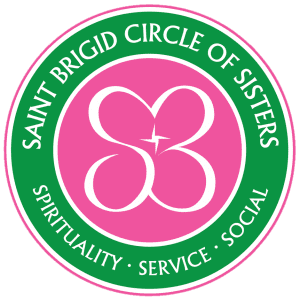 The Saint Brigid Circle of Sisters (formerly known as the '"Women's Guild") is a ministry to serve the women of our parish. The goal is to bring together women of all ages and situations so that they may enrich one another's lives through spiritual activities, service to our parish and the community at large and social activities.
All women are invited.  If you are already a member of the Mom's Group, Prime Timers, Married Couples, Young Professionals, etc.. you have a place as well in the Circle of Sisters.  No matter what your age; whether you are single, married, divorced, widowed… we want you!!!  We are sisters in Christ and we all have a place in the circle!
We have lots of fun things planned for 2019-2020!
Our 2019-2020 events are as follows: 
August 29th  – Annual Wine Tasting and Kick-off – Wine and Beer throughout the Year.  Enjoy tastings of a variety of wine and beer that suit each season.  Additional beverages and appetizers will also be served.  You'll hear about the great service, spiritual, and social events we have planned, and we welcome your ideas.  Please rsvp to https://www.signupgenius.com/go/60b0848a4af29a20-circle3      7:00 PM Corbett Hall
September 26th – Mom's Group Kick Off Event – Join your sisters as we support this event.  Check the bulletin for how to attend this event.
October 24 – Info to come – 7 PM – Corbett Hall
November 14 and 15th – Holly Days – Thursday 6:00 – 9:00 PM and Friday 9:00 AM to 1:00 PM located in Corbett Hall. Vendors of all kinds will be present for a fabulous 2 days of shopping. Proceeds go to our many charities that we support.
November 17th – 6:15 PM – Advent by Candlelight Event- Visit saintbrigid.org/adventbycandlelight for details and registration form.  The last date to register is November 7th.   Become a hostess and invite your guests to his beautiful new event.
December 18th – Annual Ornament Exchange details to come
February 27th – Women of Saint Brigid Lenten Night of Reflection  Corbett Hall 7-9 PM Join us for a beautiful night with guest speaker Sister Mary Cecilia from St Catherine of Sienna School.  She will speak to us about living "Under the Mantle of Mary".  Following the talk we will all gather in the main church for a meditation by Deacon Tom Huff with accompanying music by Ashley Dean.  We will have fellowship before the talk and after the meditations so please join us for this wonderful evening.
March 26th – Annual Easter Basket Drive  Corbett Hall 7 PM – each year we collect items and make Easter Baskets for deserving children that are sponsored by Catholic Charities.  We will be making 80 baskets this year for Catholic Charities to distribute.  Please join us for the fun.
*Dates and times subject to change. Please check the bulletin and our monthly emails. To be put on our monthly email distribution list please email Donna Ortiz dimotiz63@comcast.net.
For more information about Circle of Sisters feel free to contact Cappy Foley cmfoley@att.net or Donna Ortiz dimotiz63@comcast.net
Like us on  

Donna Ortiz
Circle of Sisters Coordinator