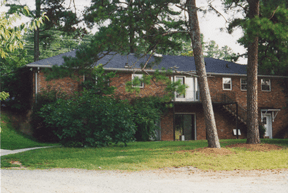 In the early 1990's Archbishop John F. Donoghue of Atlanta, purchased property for a new parish in Alpharetta on Old Alabama Road. In June of 1998, the Archdiocese announced Father W. Joseph Corbett, then Parochial Vicar at All Saints Catholic Church in Dunwoody, as the Administrator of the yet to be named mission.
In August, Father Corbett began celebrating daily Mass at a small house on the Old Alabama Road property. During the summer of 1998, a meeting was organized to select a name for the new mission. Upon Archbishop Donoghue's approval, the new Alpharetta mission would be named Saint Brigid, in honor of the fifth-century Irish saint. The first Sunday Mass of Saint Brigid Mission was held on November 1, 1998, in the auditorium of Centennial High School in Roswell and attracted about 500 people.
On September 24, 2000 Archbishop Donoghue elevated the mission to parish status and appointed Father Corbett as the first Pastor. On June 12, 2001, Archbishop Donoghue led the groundbreaking ceremony for the new 51,000 square-foot parish building.
Almost a year and a half later construction was completed. On November 2, 2002, the dedication of the new church was celebrated by Archbishop Donoghue.
The parish facility has a Gothic Revival-style church designed to accommodate 1,200 people and includes a choir loft.  It also has a beautiful Adoration Chapel that seats 100 people, a parish hall with a full restaurant style kitchen, an administration area for clergy and staff, and a large classroom area on the main floor. In 2002 Saint Brigid was thriving with nearly 1,500 registered families.
On April 24, 2005, the new Archbishop of Atlanta, Wilton D. Gregory, named Father Corbett a Vicar General of the Archdiocese of Atlanta.  While he was able to maintain both positions for about a year, Archbishop Gregory eventually asked him to move over full-time as the Vicar General.  Under the leadership of Father Corbett, the parish grew from its humble beginnings at that first Mass at Centennial High School, our beautiful church was built, and 2,950 registered families now called Saint Brigid home.  Because of his service to the Church, in early 2007, Father Corbett was named a 'Chaplain of his holiness' and now is called by the title of Monsignor.
On April 28, 2006, Archbishop Gregory appointed the second Pastor of Saint Brigid, Monsignor Paul Reynolds.  A holy and dedicated priest, he was a Vicar General of the Archdiocese of Atlanta before he joined us at Saint Brigid.  He continued Father Corbett's legacy of sharing with everyone the Truth, Beauty, and Goodness of Christ and his Church.  Monsignor Reynolds committed his pastorate at Saint Brigid to making sure that all he met, knew, and experienced God's, superabundant gratuitous love.  Under his leadership, the Rectory was planned, built, and finally completed in March of 2008.  In the summer of 2010, Monsignor Bill Hoffman was named Administrator of Saint Brigid as Monsignor Reynolds took time to try to recover from an illness. On December 18, 2010, our beloved Pastor went to his eternal reward.  Our parish family would appreciate it if you would please take a moment to pray right now for the repose of his soul.  At the end of his earthy life, Saint Brigid had grown from the 2,950 families Saint Brigid had when Father Corbett left, to 3,750 families.
On February 24, 2011, Archbishop Gregory appointed the third Pastor of Saint Brigid, Monsignor David P. Talley. Continuing the preliminary work Monsignor Reynolds began during his pastorate, Monsignor Talley surveyed the parish about a possible building project (Upon This Rock) to increase parking and classroom space.  On January 3, 2013, the Apostolic Nuncio to the United States of America, Archbishop Carlo Maria Vigano, announced that Pope Benedict XVI had appointed Monsignor Talley auxiliary Bishop of Atlanta.  On April 2, 2013, Monsignor Talley was consecrated as a Bishop at the Cathedral of Christ the King in Atlanta, by Archbishop Gregory.  Please join the parishioners of Saint Brigid in praying for Bishop Talley in his new role in Christ's Kingdom. (On September 21, 2016, Bishop Talley was named Coadjutor Bishop of the diocese of Alexandria, LA.)  When Bishop Talley completed his pastorate at Saint Brigid we had grown to 4,050 registered families. Our Parochial Vicar, Father Joshua Allen, was named interim administrator by Archbishop Gregory on April 1, 2013, until our new Pastor was named.
Saint Brigid continues to be a strong and vibrant parish on Atlanta's north side, with over 70 ministries and organizations including, The Men of St. Brigid, Women's Guild, Mom's Group, Mustard Seed, Perpetual Adoration, Bereavement Ministry, Elijah Cup, Career Transition Network, Knights of Columbus, Respect Life, Wedding Ministry, and a highly successful Day School for 2-5-year-olds.
Today, Saint Brigid is the spiritual home of more than 4,050 registered families, under the leadership of Father Neil Herlihy who was appointed Pastor by Archbishop Gregory on July 1, 2013.
Faith-filled home becomes a home for faithful in Johns Creek
Previous Pastors
See Saint Brigid's pastors over the years.
Previous Parochial Vicars
See Saint Brigid's parochial vicars over the years.
Previous Deacons
See Saint Brigid's deacons over the years.