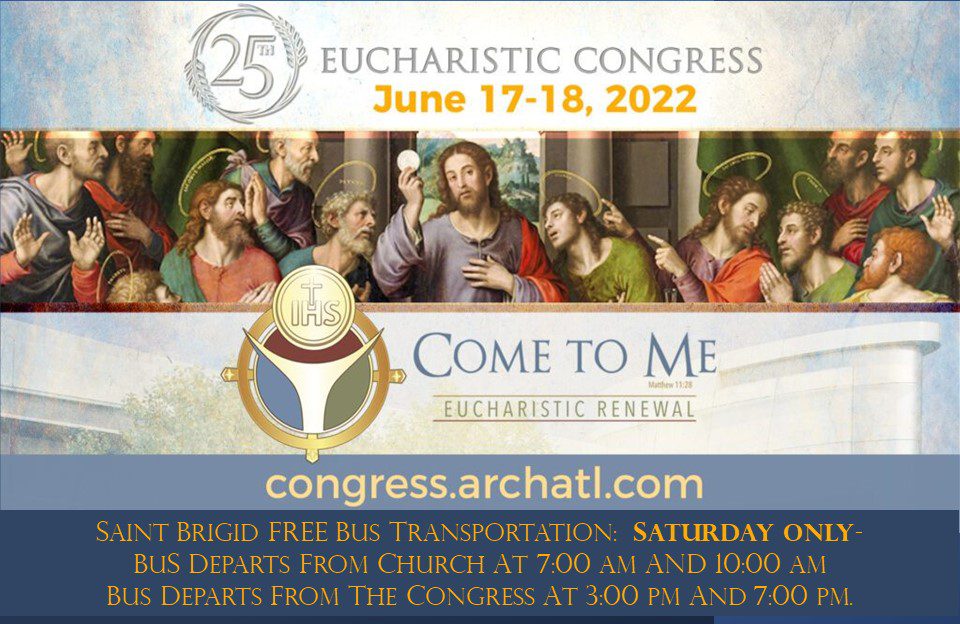 Saint Brigid Bus Times : Depart Saint Brigid at 7:00 AM and 10:00 AM.
Leave the Convention Ctr. to return home at 3:00 PM and 7:00 PM.
The Archdiocese of Atlanta invites you to the Eucharistic Congress, on June 17 – 18, at the Georgia International Convention Center. Be energized by music, inspired by dynamic speakers and fellowship with other Catholics around the archdiocese!. This year's teen track returns, the Family Track will replace the KID track and lots of opportunities for spiritual enrichment, including Eucharistic Adoration and Confession. For details congress.archatl.com
Relax and ride in fellowship to and from the Congress. Only on Saturday, Saint Brigid will provide FREE bus transportation, no reservation needed. The early bus will get you there on time to proudly represent Saint Brigid in the Eucharistic Procession leading to Mass.
Schedule Of Friday Events at Congress
Schedule Of Saturday Events at Congress
Public Transportation is strongly suggested. It can be easily accessed through the Skytrain from the airport to connect to Marta. Additional parking is provided at WallyPark Airport Parking at 3811 Wally Park Way, College Park 30337.