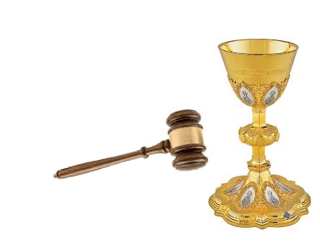 An Annulment is a declaration by a Church tribunal (a Catholic Church court)   that a marriage thought to be valid according to the Church actually fell short of at least one of the essential elements required for a binding union, that is was null from the beginning and prevented a valid marriage from coming into existence.   It does not "erase" the civil marriage, and it does not render the children illegitimate.    An annulment frees the couple from the bond of the previous marriage and allows them to marry in the catholic church.  The annulment process is frequently misunderstood.
In order to help divorced and remarried Catholics live sacramental lives, the Church encourages them to pursue the annulment process.  Saint Brigid has trained case sponsors to answer questions, and discuss the process with those with interest, and assist people in submitting a case to the Tribunal.  For more information or to arrange a confidential discussion with our Annulment Advocate, contact Deacon Tom Huff at thuff@saintbrigid.org or call  678-393-0060  ext. 115.
Annulment Information Session
Thursday, August 19th, 2021, 7:00 – 9:00 PM in Corbett Hall 
The Annulment Ministry of Saint Brigid Catholic Church will hold a two-hour Information Night for parishioners in Corbett Hall to answer questions and discuss basic requirements needed for a Catholic Annulment.  On hand to answer questions will be Deacon Tom Huff and Gina Blackwell, who both are certified as Annulment Advocates for the Archdiocese of Atlanta.
To sign up please email gblackwell@atladvocate.com with the number of people who will be attending. 
The information presented will include:
What is an annulment?
Why do Catholics and non-Catholics need an annulment?
What is the annulment process?
How do I get started?
Become an Advocate
We are looking for adult parishioners who would like to serve in the Tribunal Advocate Program. Training is provided. More information on the Advocate program can be found here at the Archdiocese of Atlanta website. 
Resources:
New Tribunal advocates help applicants navigate annulment process