The Saint Brigid Bereavement Ministry presents the Mass of Remembrance,  for the Commemoration of the Faithful Departed.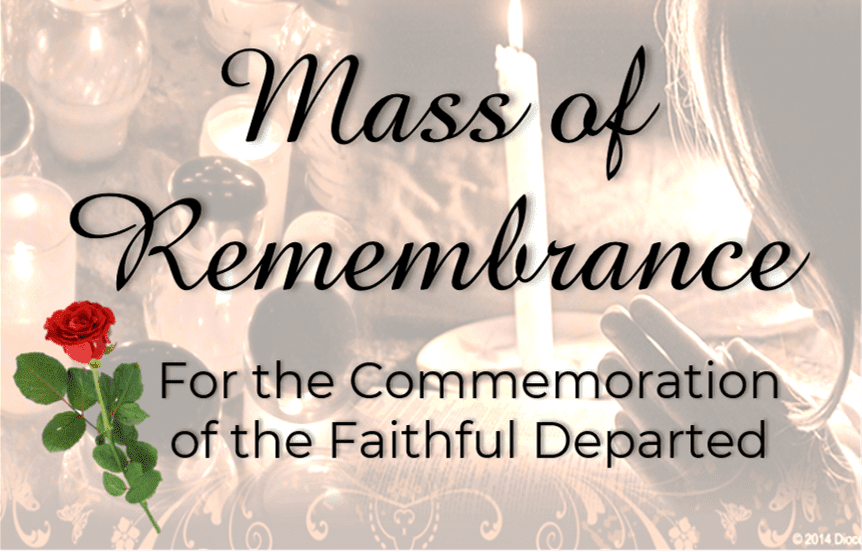 Wednesday, November 3rd, 2021, 
6:30 PM in the Columbarium service,  7:00 PM Mass in the Sanctuary
Honor the memory of your loved ones who have passed.  A litany of names with candle lighting and an offering of special roses will mark this special occasion.  Due to COVID-19, there will be no reception in Corbett Hall.  Names are no longer being accepted for the Litany and Program.  The sheets will still remain on the Altar during Mass.
We ask you to participate in the All Souls Novena of Masses.
YOUR RSVP is Required for your participation in the rose ceremony.
Please fill in this form with the names of your loved ones to be included in the Mass' Litany and program;
Mass of Remembrance Form.  Print it, save a copy and attach it to an email, or drop it off at the parish office by Oct. 22nd.
(Send via email, fax, mail or secure after-hours dropbox).  The form is also available at the office and in the Narthex.  Only one form per family attending this Mass is accepted.
Contact Nancy Taneski for information at nancytaneski@bellsouth.net.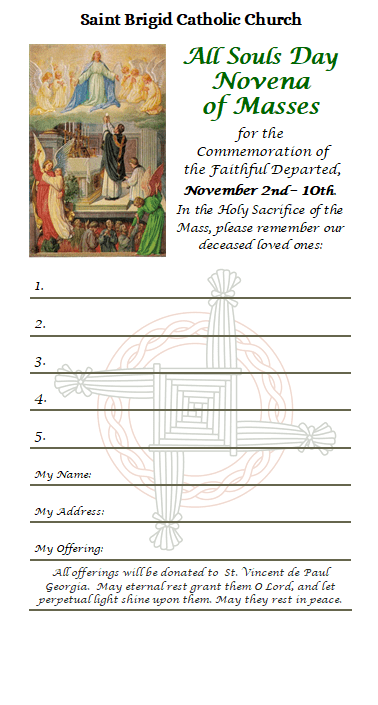 If you are unable to attend this Mass …. please participate in the  All Souls Novena of Masses.  The practice of Novena is especially for those who mourn the death of loved ones.  There is no limit to the number of names you would like to add to the novena.  These Mass Intention envelopes will remain on the Altar during ALL 27 Masses and Perpetual Adoration throughout the Novena.   All Masses during this period are intended for those requested souls and continue the nine days following All Souls Day, beginning Nov. 2nd to Nov. 10th.   Envelopes are available at the front office and in the Narthex for All Souls Novena.    All proceeds will benefit the Saint Brigid Rite of Christian Initiation programs.