Grief Care is a special weekly seminar and support group led by parish volunteers who have or are currently experiencing their own grief.  This ministry is for people who are grieving the death of someone close to them.  It's a place to be around people who understand what you are feeling.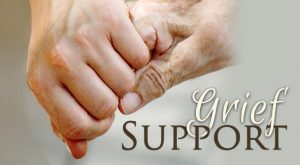 Believing grief is a natural response to loss and a necessary process in adjusting to change, we endeavor to support the bereaved in their mourning.  Support groups strive to facilitate the expression of emotion and thought about loss, including sadness, pain, anxiety, anger, loneliness, guilt, relief, isolation, confusion or numbness. Challenges that often follow a loss can include disorganization, tiredness, trouble concentrating, sleep deprivation, vivid dreams, and changes in appetite.  At Grief Care, you'll learn valuable information about recovering from your grief and renewing your hope for the future.
The new Spring 2023 session of Grief Care meetings runs for seven weeks.
Monday evenings from 7:00 – 8:30 PM
February 13, 20, 27 and March 6, 13, 20, 27
*Registration is requested to ensure we have appropriate material for all participants.   If you are interested, please complete the registration form and return it to the parish office.   If you have any questions regarding the sessions, please contact:
Lisa M. Danes, danes.2@comcast.net, 302-598-7131 (C)
or Deacon Jim Wolf, jwolf@saintbrigid.org
---
Scheduled topics:
Week 1:  Introduction and Overview
Week 2:  Beginning to accept the reality of loss
Week 3:  Experiencing the pain of grief
Week 4:  Adjusting to the environment without your loved one
Week 5:  Reconciling grief with your daily life
Week 6:  Journeying toward a new normal
Week 7:  Moving toward closure
---
Resources in Atlanta
Post-Abortion Healing –   healing ministry that enables individuals to find understanding, forgiveness, healing and wholeness   
The Saint Brigid Annual Remembrance Mass (All Souls Day) and Reception
National Resources 
SUICIDE PREVENTION LIFELINE:  Call the 24-hour lifeline at 1-800-273-TALK (8255)
CRISIS TEXT LINE: Text "START" to 741741, Free crisis support services for teens, 24 hours a day
LIFELINE CRISIS CHAT
This website is run by the same individuals as the Suicide Prevention Lifeline but allows you to chat with a helping professional. Crisischat.org is available from 1:00 p.m. – 1:00 a.m.   Currently, they are unable to respond to all chats.  In the event that a helper is unavailable, you will be asked to try again in 30 minutes.
Please use The Suicide Prevention Lifeline as a backup if a helper is unavailable.
If you are hard of hearing, you can chat with a Lifeline counselor 24/7 by:
 Video relay Service – Dial 800-273-8255
 TTY – Dial 800-799-4889
 Voice/Caption Phone – Dial 800-273-8255
VETERAN CRISIS LINE   veteranscrisisline.net – Phone support, text or chat support, self-quiz available
VETERAN's PEER SUPPORT LINE – Call 1-877-Vet-2Vet (838-2838)
TEEN TO TEEN PEER COUNSELING HOTLINE – Call 1-877-YOUTHLINE (968-8454)
POST-PARTUM DEPRESSION HOTLINE – Call 1-800 PPD-MOMS (773-6667)
DOMESTIC VIOLENCE HOTLINE – Call: 1-800-799-7233, Text: LOVEIS to 1-866-331-9474 or visit: www.thehotline.org for online chat
LITERATURE:
Grief Overview (Archdiocese of Boston)
Resources for Catholic during COVID-19
Lisa Danes
Legion of Mary Coordinator