Grief Care is a special weekly seminar and support group led by parish volunteers who have or are currently experiencing their own grief. This ministry is for people who are grieving the death of someone close to them. It's a place to be around people who understand what you are feeling.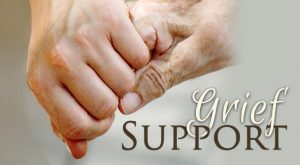 Believing the grief is a natural response to loss and a necessary process in adjusting to change, we endeavor to support the bereaved in their mourning. Support groups strive to facilitate the expression of emotion and thought about loss, including sadness, pain, anxiety, anger, loneliness, guilt, relief, isolation, confusion or numbness. Challenges that often follow a loss can include disorganization, tiredness, trouble concentrating, sleep deprivation, vivid dreams and changes in appetite. At Grief Care, you'll learn valuable information about recovering from your grief and renewing your hope for the future.
The new Spring session of Grief Care meetings runs for seven weeks.
Monday evenings from 7:00 – 8:30 PM
February 10, 17, 24 and March 2, 9, 16, 23. 
*Registration is requested to ensure we have appropriate material for all participants.
Schedule topics:
Week 1:  Introduction and Overview
Week 2:  Beginning to accept the reality of loss
Week 3:  Experiencing the pain of grief
Week 4:  Adjusting to the environment without your loved one
Week 5:  Reconciling grief with your daily life
Week 6:  Journeying toward a new normal
Week 7:  Moving toward closure
For registration, fill out the registration form; which can be downloaded or picked up from our church parish office.
Nancy Taneski McClure
Bereavement Ministry & Grief Care Ministry Coordinator