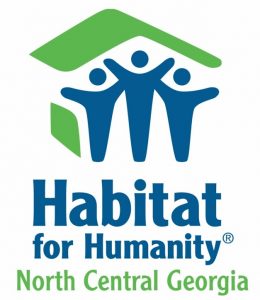 This Saint Brigid ministry works closely with Habitat for Humanity-North Central Georgia to increase the availability of low-cost housing for deserving families in North Fulton and Cherokee Counties.  Each year Saint Brigid Catholic Church sponsors one half of a Habitat house.  The ministry committee plans the year's activities, prepares a fundraising plan, conducts two fundraising events, and coordinates all of the construction volunteers.
2021 Build for the Lamrabette / Rochdi Family
The selected location is at 255 Shady Trail in Canton, GA.  Construction begins on Feb. 6th and ends in May.  The dedication is scheduled for June 5th.  We still have openings for construction volunteers to work on the Saint Brigid Habitat house. To volunteer:
1.  Visit the Habitat website http://www.habitat-ncg.org/volunteer.
2.  Click the "Use Reservation Code" button and type in the code provided to you by your coordinator SBCC
3.  Click the "Register for an Event" button
4.  Fill in your email address and first name provided
5.  Fill out the entirety of the volunteer profile (Volunteer interest and profile picture are optional)
6.  Review Terms and Conditions and click "Create Volunteer Profile"
7.   Select "Volunteer Name" as your own name
8.  Click the event you are trying to register for and click "Choose time slot(s) and register for selected event"
9.  Check the box of the time slot (s) you will be attending and click "Complete Registration"
10.  You are successfully registered for this event
---
What is Habitat for Humanity?
Habitat works toward this vision by building and improving homes in partnership with individuals and families in need of a decent and affordable place to live.  Families and individuals in need of decent, affordable housing apply for homeownership with their local Habitat for Humanity.  As part of their willingness to partner, Habitat's homebuyers invest hundreds of hours of their own labor, called sweat equity, working alongside volunteers and other Habitat homeowners.  Habitat for Humanity follows a nondiscriminatory policy of family selection. Neither race nor religion is a factor in choosing Habitat's homeowners.
Each local Habitat's family selection committee selects homeowners based on three criteria:
The applicant's level of need.
Their willingness to partner with Habitat.
Their ability to repay a mortgage through an affordable payment plan.
What is a Habitat for Humanity ReStore?
Habitat for Humanity ReStores are nonprofit home improvement stores and donation centers that sell new and gently used furniture, home accessories, building materials, and appliances to the public at a fraction of the retail price.  Habitat for Humanity ReStores is proudly owned and operated by local Habitat for Humanity affiliates.  Proceeds are used to build homes and improve communities locally and around the world.  In many locations, Habitat for Humanity operates ReStores, which sell reusable and surplus building materials, furniture, and appliances to the public.  To donate materials, contact your local Habitat ReStore.