The 2022 Bob Lehrer Legacy Build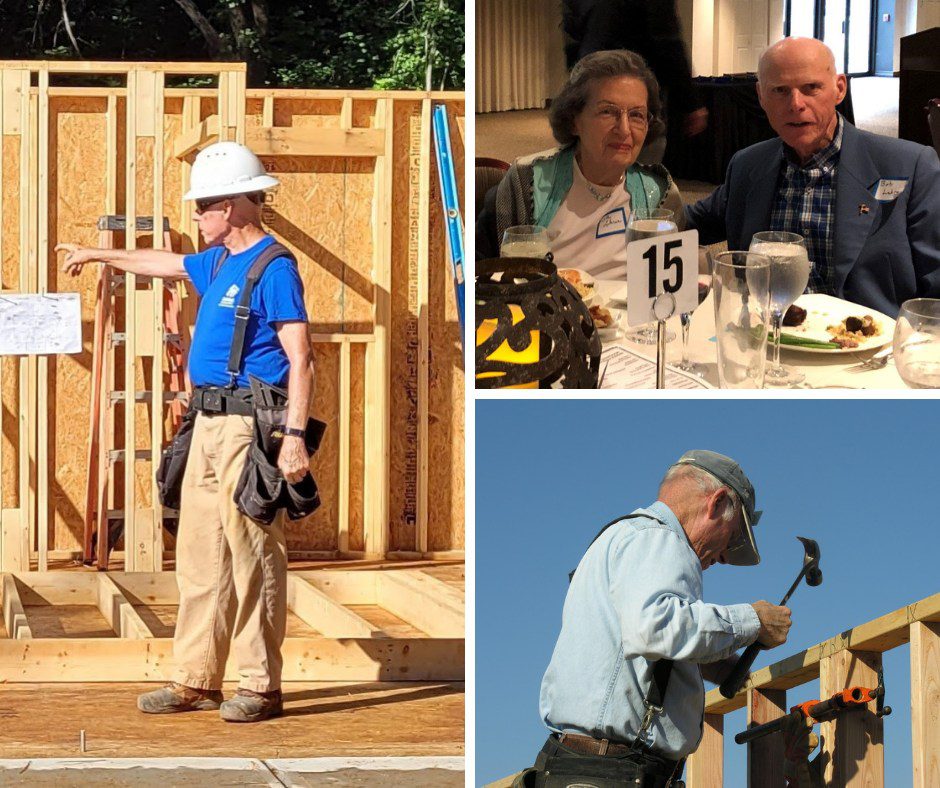 In honor of Bob Lehrer, a long-time Habitat volunteer, mentor, and advisor.  Habitat for Humanity is designating the Fall 2022 Ecumenical Build a Legacy Build!  This build has been delayed until January 2023.  Check the signup site for more details on the new dates and volunteer opportunities.  If you already signed up for a Saturday, you will keep the same task, just a new date. 
Bob began volunteering with Habitat for Humanity in Georgia in 2005 after he retired as our Construction Manager, and currently volunteers weekly as a house leader.  As a house leader, he works year-round in all types of weather conditions and manages countless volunteers on a weekly basis to teach them construction skills and provide supervision to complete homes on schedule. He has served as the local Habitat representative for the international Habitat builds under projects sponsored by Habitat for Humanity International and Jimmy Carter. Lehrer has traveled outside the U.S. twice a year to lead builds and coordinate local volunteer participation. He is a model volunteer and mentor.  His energy and enthusiasm are endless.
We are truly honored to be able to work alongside Bob for all these years, and hope to do so for many more!
To celebrate the work Bob has accomplished in our community over the past 20+ years, please consider making a gift and/or joining Bob on our Fall/Winter Legacy Build!
---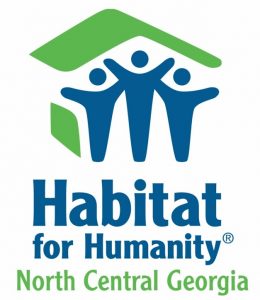 This Saint Brigid ministry works closely with Habitat for Humanity-North Central Georgia to increase the availability of low-cost housing for deserving families in North Fulton and Cherokee Counties.  Each year Saint Brigid Catholic Church sponsors one-half of a Habitat house.  The ministry committee plans the year's activities, prepares a fundraising plan, conducts two fundraising events, and coordinates all of the construction volunteers.
How Can I Help?  Here are the tasks that you can do on a Saturday.  
No experience is necessary.   Men and women, 16 to ? 
Fall – Winter Build Dates     Located at 5360 Woodstock Rd, Acworth, 30102   
Habitat for Humanity – St. Brigid Ramos Family  
Sign up at https://cerv.is/0251rStBrigid,   with Reservation code – StBrigid, or use the QR Code below.
| Date | Work |
| --- | --- |
| Jan. 14, 2023 | Pre-Builds 1 |
| Jan. 21, 2023 | First Nail |
| Jan. 28, 2023 | 2nd Floor Sys |
| Feb. 4, 2023 | 2d Floor Walls |
| Feb. 25, 2023 | Siding |
| Mar. 4, 2023 | Siding / Paint |
| Mar. 11, 2023 | Siding / Paint |
| Mar. 18, 2023 | Inside Paint I |
| Mar. 25, 2023 | Inside Paint II |
| Apr. 1, 2023 | Pre-Landscape |
| Apr. 15, 2023 | Landscape |
| Apr. 29, 2023 | Dedication – Everyone is invited! |
---
Who Qualifies for a Habitat Home? It is not easy!
Habitat works toward this vision by building and improving homes in partnership with individuals and families in need of a decent and affordable place to live. Families and individuals in need of decent, affordable housing apply for homeownership with their local Habitat for Humanity. As part of their willingness to partner, Habitat's homebuyers invest hundreds of hours of their own labor, called sweat equity, working alongside volunteers and other Habitat homeowners. Habitat for Humanity follows a nondiscriminatory policy of family selection. Neither race nor religion is a factor in choosing Habitat's homeowners.
Each local Habitat's family selection committee selects homeowners based on three criteria:
The applicant's level of need.
Their willingness to partner with Habitat.
Their ability to repay a mortgage through an affordable payment plan.
This year, the homebuyers are the Ramos / DeJesus Family,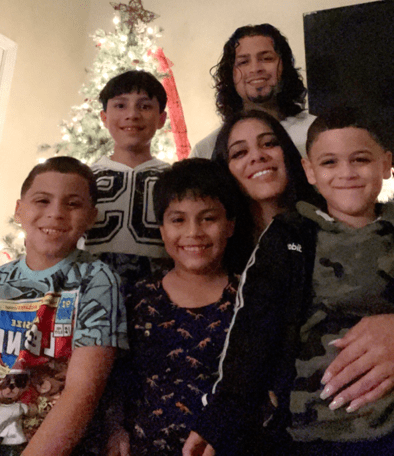 In September 2017, Hurricane Maria hit Puerto Rico as a Category 5 hurricane. It is recognized as the worst natural disaster to ever hit the island. Alejandro Ramos and his wife, Estefany De Jesus Besares moved to North Georgia with their oldest son, Kenniel was only six years old at the time. Their twins, Alexis and Alex were only one year old.
The relocation to Georgia was challenging. For the first three weeks, the family was hosted by a friend. Alejandro quickly searched for a job in his profession as a barber. Their next move was to a hotel for six weeks and then into an apartment in Acworth. As if moving frequently is not challenging enough, the children were also fighting significant health battles. The youngest child, Keyden, suffers from laryngomalacia and sleep apnea. He is only four and has undergone several surgeries with more possible in his future. Estefany never sleeps well because she is on high alert watching his breathing while he sleeps. Alejandro has become a skilled barber and recently went out on his own, renting a booth and bringing his own clientele to the business. While he works hard, Estefany has her hands full caring for four boys, some of them still dealing with various disabilities.
The family learned about Habitat for Humanity-North Central Georgia through Facebook. Their faith has been their rock through all of life's ups and downs. God continues to bless Alejandro and Estefany by providing them with a path to homeownership they could never have imagined just four years ago while their home was being ravaged by a hurricane. They are grateful for the opportunity Habitat for Humanity-NCG provides to families like them and look forward to moving into a new home in 2022.
---
How do I donate to the Habitat for Humanity ReStore?
Habitat for Humanity ReStores is a nonprofit home improvement store and donation center that sell new and gently used furniture, home accessories, building materials, and appliances to the public at a fraction of the retail price. Local ReStores are in Smyrna, Lawrenceville, and Gainesville. Use the following link to find a location near you: Habitat for Humanity ReStores. The ReStores are proudly owned and operated by local Habitat for Humanity affiliates. Proceeds are used to build homes and improve communities locally and around the world. ReStores sell reusable and surplus building materials, furniture, and appliances to the public. To see accepted materials, contact your local Habitat ReStore.