"Celebrating Christ in Prison"
Prison … not a pleasant thought, but a reality for more than 65,000 prisoners in the state of Georgia.
Incarceration…the very thought of it makes most of us feel uncomfortable.  As a society, we've "put away" the men and women serving time in prisons and written them off as cold, hardened criminals.  Our thoughts and words flow all too easily, with little emotion, "They got what they deserved."
But, even for those surrounded by walls of thick concrete and razor wire, the Body of Christ is there and as children of God and of the Catholic Church, it is our responsibility to bring Holy Communion to anyone who wishes to receive it, no matter what their circumstances.  It is not our role to judge, only to serve and to bring the Good News of Jesus Christ.
There are many things we can't give them.  What we can give them is God's message of Hope, Love and Forgiveness.
The vineyard is ripe!
'For I was in prison and you visited me.'
Matthew 25: 35-40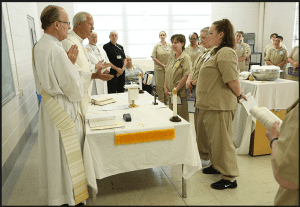 We visit the Hays Men's Prison every Monday and the Arrendale Women's Prison every Tuesday from 3:00 pm to 10:00 pm.
Join our volunteer team.  Please contact us for any information, or considering volunteering in any capacity.

Paul Caruso, founded Saint Joseph Cafasso Prison Ministries in 1999.   Paul leads our team with volunteers from Saint Brigid, St. Thomas Aquinas, and St. Mary's Catholic Churches.
Articles in the news about our ministry:
https://www.catholicnews.com/services/englishnews/2014/women-inmates-say-catholic-prison-ministry-brings-them-closer-to-god.cfm
Ministry in women's prison in Alto leads five to seek confirmation
Women baptized, confirmed during Mass celebrated in state prison