Holy Hour for the Legal Protection of Unborn Children
Monday, January 23, 2023 – 7:00 PM,  Church
"If everyone prayed one hour of Adoration a week, there would be no abortion." Saint Mother Teresa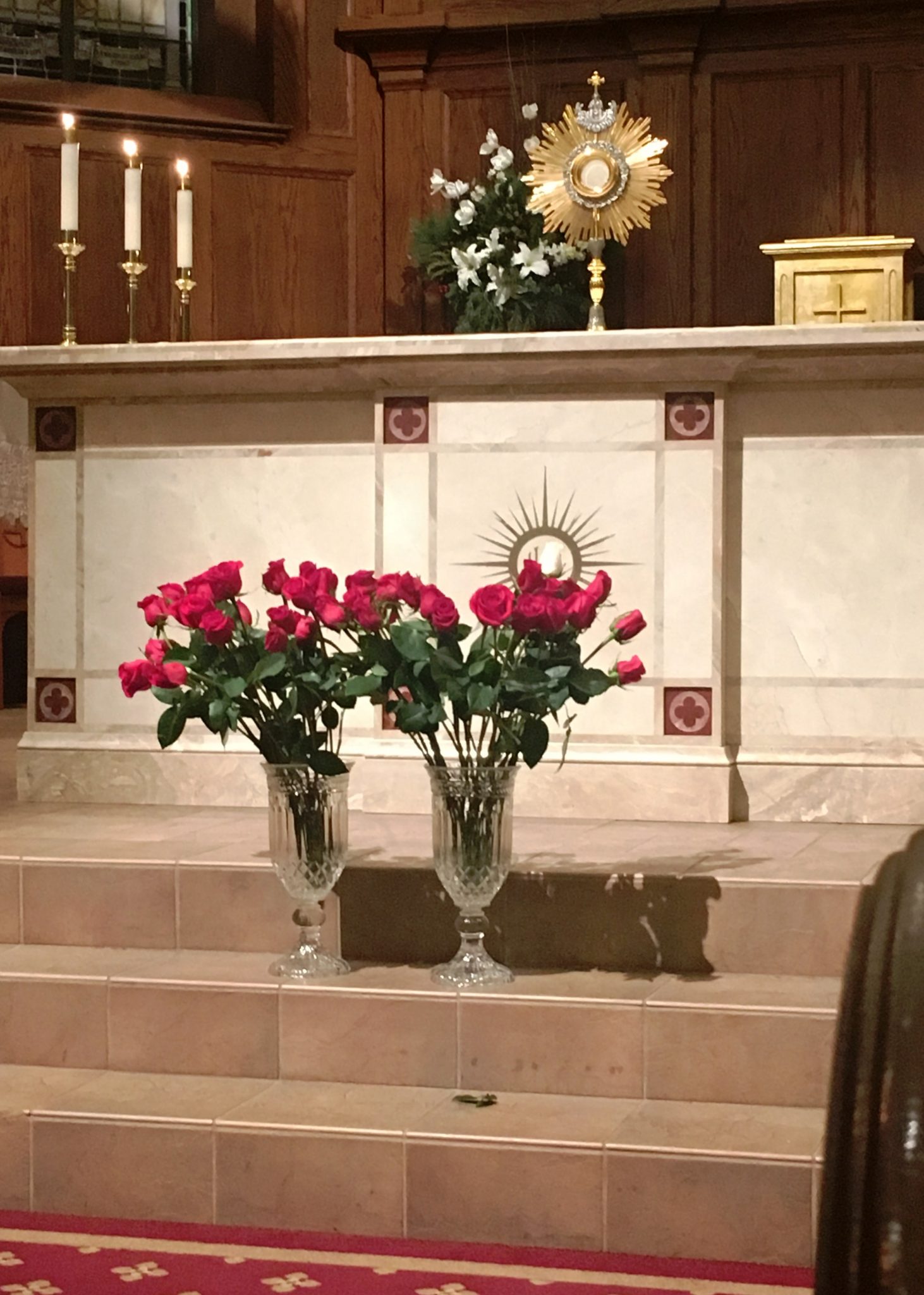 We will mourn the 50`th anniversary of the Supreme Court Decision of Roe vs. Wade which legalized abortion in the United States.
The Holy Hour will begin with a rose procession for life. This procession includes one person born each year since abortion was made legal in the United States.  Each person represents all the children aborted during their year. The roses they carry are an offering of remembrance.  We use the color red to signify love and devotion. Our expectant mother represents 2021 and carries a white rose; the color white signifies innocence and purity and our hope to see an end to abortion in our lifetime.  Please join us in this hour of prayer for all of the unborn not protected since this decision in our country and pray for an end to abortion in our world.
 If you were born from 1973 through 2022, we need you to represent your birth year in the rose procession for life.  Please sign up for yourself, your children, and your grandchildren and become part of this procession.   To sign up to carry a rose, please use the Sign-up Genius link at: 
Respect Life Ministry: Procession For Life – 2023 (signupgenius.com)

Respect Life Baby Shower
Weekend of Mother's Day Weekend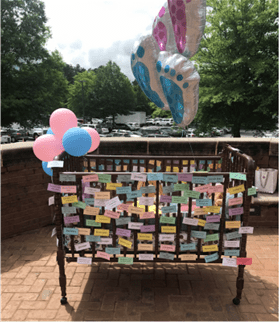 Help support both the Pregnancy Aid Clinic and the Saint Brigid Walking with Moms in Need programs. Parishioners can take a gift tag from the baby crib to donate an item needed to help mothers who chose life during their unplanned pregnancies. The Items are due back the following Mother's Day weekend. Members of the Respect Life Ministries will be on the landing to accept donations. As an alternative, it can be dropped off outside the parish office until May 19th. Examples of needed items are gift cards for gas, Walmart gift cards to purchase cribs, and strollers, Publix grocery, maternity and baby clothes, diapers, rattles, small toys, books, burp cloths, ext…… Thank you in advance for your generosity in supporting Moms who Choose LIFE!
National Life Chain
The National Life Chain
Sunday, October 1st,  from 3:00 – 4:00 PM,  we meet in the parking lot at 2:45 PM.
The first Sunday of October (Oct. 1st this year) is observed as Respect Life Sunday in the Catholic Church.   As Catholics, we are called to cherish, defend, and protect those who are most vulnerable, from conception to its natural end.
We participate in this nationally coordinated event,  where churches all across the country will stand in silent prayer for one hour to honor the sanctity of life.   Please join our parish in taking a stand for life on the sidewalks in front of our church.

The Knights of Columbus will provide a free light lunch in the parking lot before heading to the sidewalk to pray.   Families are welcomed and encouraged as we stand to honor the dignity of all life from conception to natural death.  Signs are provided and if needed you may bring a chair to sit in if you cannot stand for an hour.  We invite you to join in this wonderful stand for life.
Holy Hour for Life
Monday, October 2, 2023  7:00 PM – Chapel
Please join us for one hour before the Blessed Sacrament to pray for life.  The hour will be led by Deacon Leo Gahafer.  Hear our special guest speaker Jamie Oreffice.  Jamie and her husband Andy have four children, two of whom are adopted.  Jamie will share their adoption journey filled with questions, faith, fear and doubts, but most of all overwhelming joy, that led them to their two youngest children. Jamie and Andy are
passionate about adoption and have started the Catholics Adopt Project to help others realize the
gift of adoption.
Life at all stages is a gift from God—whether it is the life of the unborn in the womb or life outside the womb for those suffering from disabilities, abuse, or neglect.  During this Holy Hour in front of the Blessed Sacrament, we will pray for the vast number of babies not allowed to be born, for the poor whose lives are made difficult, for men and women who are victims of brutal violence, for the elderly and the sick killed by indifference or out of misguided mercy.  Our prayers may lift their spirits and perhaps even bring about a change in their condition, thereby bringing them peace.
We will pray aloud the Chaplet of Divine Mercy for their welfare and then continue in silent prayer for the remainder of the hour.  If a priest or deacon is present he will offer Benediction with the Blessed Sacrament.
Most everyone knows of someone who is in need of prayer.—whether it be family, friends, or acquaintances.  Please join us whenever you can during this important Holy Hour to bring them consolation and peace.
Respect Life Family Dinner and a Movie Night
September 30th, 6:00 PM after the Vigil Mass
www.Lifemarkmovie.com Registration is closed.
If you are still interested in the dinner, please contact the coordinator.
Ippolitos Catering is only $12.00 / person. The movie is free if you choose not to eat.
Contact Cathy at respectlife.saintbrigid@gmail.com for info.
David's comfortable world is turned upside down when his birthmother unexpectedly reaches out to him, longing to meet the 18-year-old son she's only held once. With the encouragement of his adoptive parents, David embarks on a journey of discovery that leads to a staggering truth from his past. From executive producers Kirk Cameron and the Kendrick Brothers—creators of War Room and Fireproof—comes LIFEMARK, inspired by an incredible true story that celebrates the gift of life.