Sidewalk Advocates Training 4-25-22,
We're on a mission…
To transform the sidewalk in front of every abortion facility in America and beyond into a place of real help and hope and END ABORTION.
Sidewalk Advocates for Life Training
Monday, April 25th, 9:00 AM to 3:00 PM, RM 135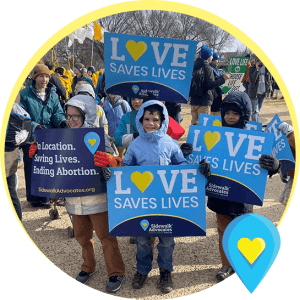 Saint Brigid Catholic Church is hosting a training on how to counsel abortion-minded people on the sidewalk outside abortion clinics.  The cost is $ 25.00 per person. Registration is required. This also includes training, manual, and lunch. 
For information about this organization, please visit https://sidewalkadvocates.org. This training is open to all.
We give thanks to all the Christ-filled women and men who attend these sessions in preparation for going out on the sidewalk to reach out to moms in crisis, to offer real help and hope, and to SAVE LIVES! Is God calling YOU to the sidewalk?
Fill out this form and provide payment below:
Sidewalk Advocates for Life Training 4-25-2022
Respect Life Training - Payment of $ 25 is required per person for registration. You do not need to create an account.
National Life Chain
The National Life Chain
Sunday, October 2nd, from 2:30-3:30 PM, we meet in the parking lot at 2:00 PM.
The first Sunday of October (Oct. 3 this year) is observed as Respect Life Sunday in the Catholic Church. As Catholics, we are called to cherish, defend, and protect those who are most vulnerable, from conception to its natural end.
We participate in this nationally coordinated event, where churches all across the country will stand in silent prayer for one hour to honor the sanctity of life. Please join our parish in taking a stand for life on the sidewalks in front of our church.

The Knights of Columbus will provide a free light lunch in the parking lot before heading to the sidewalk to pray. Families are welcomed and encouraged as we stand to honor the dignity of all life from conception to natural death. Signs are provided and if needed you may bring a chair to sit in if you cannot stand for an hour. We invite you to join in this wonderful stand for life. (Counted as service hours for teens.) We are asked to wear RED signifying Jesus' blood and His sacrificial death as well as the bloodshed of the innocents.
Holy Hour for Life
Monday, October 3, 2022 7:00 PM – Chapel
Please join us for one hour before the Blessed Sacrament to pray for life. The hour will be led by Deacon Leo Gahafer. We have a special guest speaker, Rachel who will share her testimony of how she was slated for abortion by her doctors.
Life at all stages is a gift from God—whether it is the life of the unborn in the womb or life outside the womb for those suffering from disabilities, abuse, or neglect. During this Holy Hour in front of the Blessed Sacrament, we will pray for the vast number of babies not allowed to be born, for the poor whose lives are made difficult, for men and women who are victims of brutal violence, for the elderly and the sick killed by indifference or out of misguided mercy. Our prayers may lift their spirits and perhaps even bring about a change in their condition, thereby bringing them peace.
We will pray aloud the Chaplet of Divine Mercy for their welfare and then continue in silent prayer for the remainder of the hour. If a priest or deacon is present he will offer Benediction with the Blessed Sacrament.
Most everyone knows of someone who is in need of prayer.—whether it be family, friends, or acquaintances. Please join us whenever you can during this important Holy Hour to bring them consolation and peace.
Respect Life and Knights of Columbus Family Dinner and a Movie Night
Mother Teresa – No Greater Love



Saturday, January 21st, 2023, 6:00 PM in Corbett Hall
The Knights of Columbus and the Respect Life Ministry will host a family Movie Night.  The movie is free, but dinner is $10 catered by Ippolito's.
This documentary film by director David Naglieri features Bishop Barron, Ridoyanul Hoq & Patrick Kelly.  IMDB rated 8.2 /10 stars. Filmed on 5 continents and featuring unprecedented access to both institutional archives and the apostolates of the Missionaries of Charity, this film reveals not just who Mother Teresa was, but how her singular vision to serve Christ in the poor continues to be realized through the Missionaries of Charity today.  This is far more than a documentary film.  It is at once a soaring tribute to a spiritual icon, a powerful witness of authentic Christian charity, and a guidepost for all who seek hope in our turbulent times.
Online registration is now closed.   Contact Cathy at respectlife.saintbrigid@gmail.com for info.
Holy Hour for the Legal Protection of Unborn Children
Monday, January 23, 2023 – 7:00 PM,  Church
"If everyone prayed one hour of Adoration a week, there would be no abortion." Saint Mother Teresa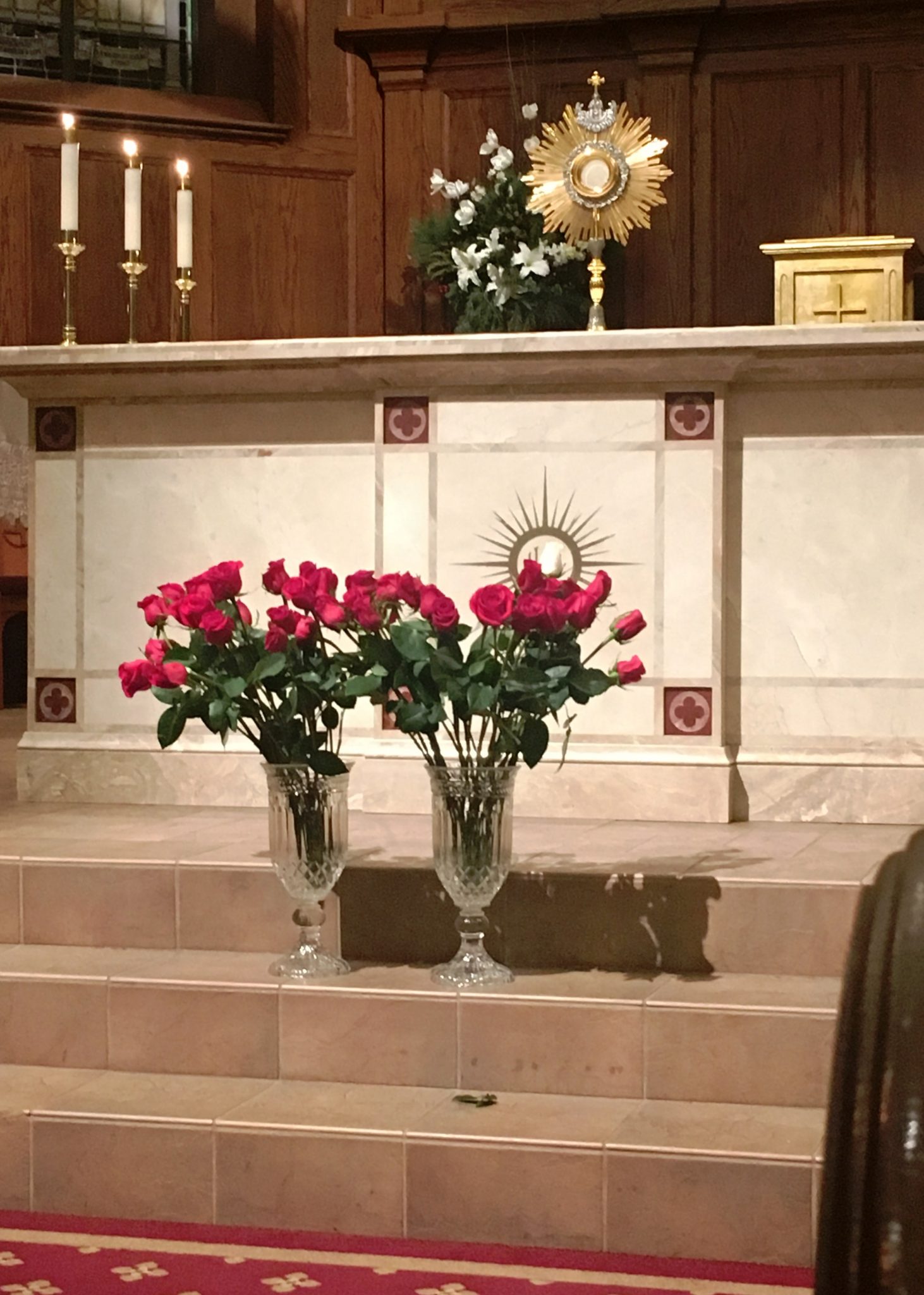 We will mourn the 50`th anniversary of the Supreme Court Decision of Roe vs. Wade which legalized abortion in the United States.
The Holy Hour will begin with a rose procession for life. This procession includes one person born each year since abortion was made legal in the United States.  Each person represents all the children aborted during their year. The roses they carry are an offering of remembrance.  We use the color red to signify love and devotion. Our expectant mother represents 2021 and carries a white rose; the color white signifies innocence and purity and our hope to see an end to abortion in our lifetime.  Please join us in this hour of prayer for all of the unborn not protected since this decision in our country and pray for an end to abortion in our world.
 If you were born from 1973 through 2022, we need you to represent your birth year in the rose procession for life.  Please sign up for yourself, your children, and your grandchildren and become part of this procession.   To sign up to carry a rose, please use the Sign-up Genius link at: 
Respect Life Ministry: Procession For Life – 2023 (signupgenius.com)

Hyde Amendment – Message from the USCCB, contact your Senators now.

(Passed by Congress, on Schedule for the Senate)
Call, write and petition your SENATOR today to not take innocent lives!  Protect the Hyde Amendment
WHAT
Congress is trying to force Americans to pay for abortion.

HOW
The Hyde Amendment and similar laws have protected taxpayers from funding elective abortion for 45 years. Now, powerful members of Congress want to take away these laws that both Democrats and Republicans have supported for nearly half a century.
WHAT HAPPENS WITHOUT THESE PROTECTIONS?
Billions of taxpayer dollars could be used to pay for abortion.

TAKE ACTION
Sign the petition to Congress!  (Even if you believe they are not going to listen)  Call their offices.
  For 45 years, the Hyde amendment and similar laws have protected taxpayers from being forced to pay for elective abortions.  ​The Hyde amendment has been signed into law every year since 1976, whether the Congress and the White House were led by Republicans or Democrats.  The Hyde Amendment has saved nearly 2.5 million babies and mothers in difficult circumstances from the tragedy of abortion.
​An overwhelming majority of Americans, including low-income women and women of color who are most impacted by it, support the Hyde Amendment and laws that prevent government-funded abortion.  We urge you, in the strongest possible terms, to ensure that the Hyde Amendment and all similar life-saving appropriations riders remain in place during the 117th Congress and beyond.
​Do not force Americans to subsidize the taking of innocent life. Oppose any bill, including any appropriations bill, that expands taxpayer funding of abortion.