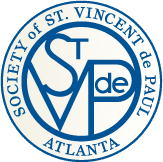 In a spirit of justice and charity, the Society of Saint Vincent de Paul is an organization of men and women who seek to be totally present and bring Christ's love to those who are suffering. We provide financial assistance, food, advice, and our prayerful consideration to those in need. We offer person-to-person assistance in a way that promotes human dignity and integrity while deepening our own Spirituality.
We welcome all that are interested in joining us in this important work to come to our meetings held every 2nd Saturday of each month at 8:00 AM AND every 4th Wednesday of each month at 7:30 PM in Room 135.
If you or your family are need of financial assistance, please call our parish office at 678-393-0060 or after hours call and dial extension 813. Please follow the message instructions.
If you live in a zip code other than 30022 or 30076, east of Georgia 400, please call 678-892-6163 for a referral to a St. Vincent de Paul Ministry in your area.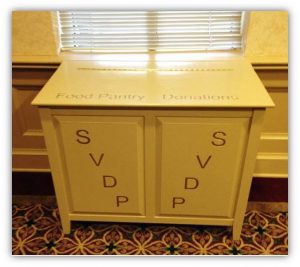 The following food items listed are needed for Saint Vincent de Paul pantry. The St. Vincent de Paul Society thanks you and appreciates all you do to help those in need in our community. The Drop Box is in Lobby, just outside Parish Office doors. Please, no perishable food items.
To download this list of items, please see the items below.
| | |
| --- | --- |
| CEREAL regular SMALL size (9 oz. box). | Jelly & JAMS (12 oz.) SMALL |
| Pasta sauce (24 oz. jar or 26 oz. can) NO LARGE | Syrup (12 to 24 oz.) SMALL |
| Canned fruit (15 oz.) | Pancake mix, Complete style (1 lb.) SMALL |
| Canned Green beans (15 oz.) | Rice (1 lb. bag or box) NO LARGE BAGS |
| Milk (liquid 32 oz., not refrigerated) | Canned tomato (15 oz.) |
| Canned Tuna (6 to 12 oz. can) NO LARGE CANS | Canned CORN (15 oz.) |
| Peanut butter (18 oz.) NO LARGE JARS | Canned OTHER VEGETABLES (15 oz.) |
| Soup, noodle or vegetable (10 ½ oz. can ) NO BOX | Canned PEAS (15 oz.) |
| Spaghetti (1 lb. box) SMALL | Canned Beans (15 oz.) |
| Macaroni and Cheese (7.25 oz. box) SMALL | Pasta, other shapes (16 oz. box) SMALL |
| Canned Tomato soup (10 ½ oz.) SMALL | Oatmeal (1 lb. canister or 12 oz. instant) SMALL |
| Canned Chicken broth (14 oz. can)  NO BOX | Potato, instant or mix (5 oz.) SMALL |
| Canned chicken (12 oz.) NO SMALL CAN | Meal Maker ("Hamburger Helper," 6 oz.) |
| Spaghetti-O's or Ravioli (15 oz. can) |  CONDIMENTS & SALT & PEPPER 2 pk |
| Large Canned soup (15 oz.) | Single wrapped toothbrush |
| Canned BLACK BEANS (15 oz.) | Small boxed toothpaste |
| Canned Creamed soup (10 ½ oz.) SMALL | TOILETRIES, SOAP SMALL ITEMS |
Bernie Gaydos
Saint Brigid Conference of the SVdP Society President