Welcom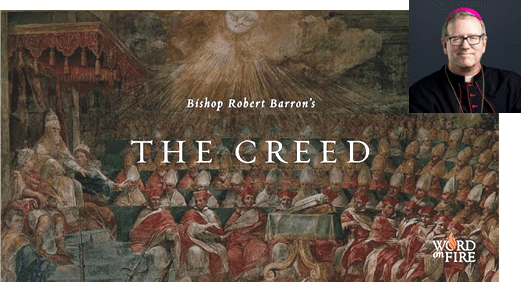 e back! We will begin a new program of study on Friday. October 15,  based on Bishop Robert Barron's, The Creed, a new film series blending both documentary cinematographic footage and dynamic talks, guiding viewers through the Nicene Creed, a fourth-century statement of faith that has profoundly influenced both Eastern and Western spirituality, theology, and liturgy.
---
Do you want to know more about your faith?
Are you looking to connect with other men in the parish?
Would you like to discuss current affairs that challenge Catholic men each day?
If so, please join us each Friday morning in Corbett Hall after the 6:30 AM Mass and join us for food, faith and fellowship!  After a light breakfast, we sit down to hear a brief presentation by one of our members. We then move into table discussions before the meeting wraps up at 8:30 AM.
If you can make it this Friday or any Friday, we'd love to have you!
The Mission of this ministry is to provide an environment where men can shoot straight and seek the Truth with other men on the real topics that are at the core of every man.

Nick Bain
Man to Man Ministry Coordinator
Mike Lenda