---
Why should I attend a WELCOME weekend?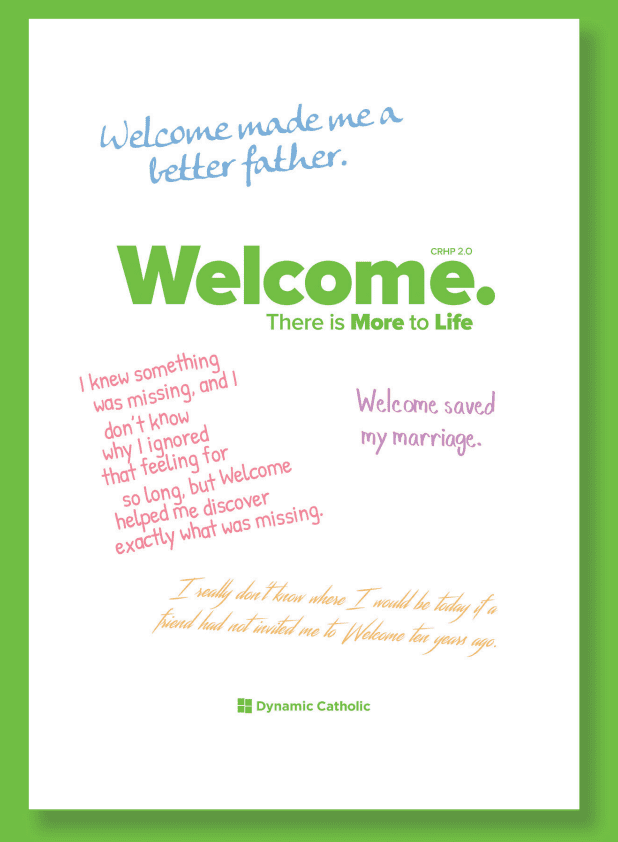 What is a WELCOME weekend?
WELCOME, formerly known as CRHP, is a parish-centered program that affords spiritual renewal through men's and women's renewal weekends. While focusing on the Gospel call to discipleship, the program stresses ongoing personal conversion, connectedness to the community, and service through ministry. Attending a WELCOME weekend is a powerful way to say "YES" to a closer relationship with Christ. A WELCOME weekend can help you determine what is missing in your spiritual life and ways to revitalize your spiritual journey.
What happens on the weekend?
The WELCOME weekend draws participants closer to Christ through the lived experiences of other parishioners.
Sacraments are a part of the weekend with liturgies celebrated both on Saturday and Sunday. The WELCOME weekend is given to PARISHIONERS by PARISHIONERS and our parish clergy. Parishioners are renewed, refreshed, recharged, and more at home at Saint Brigid than ever before.
Who attends?
WELCOME is for parishioners, 21 years and older, who are seeking spiritual renewal, desiring to grow closer to Christ, or searching for a deeper sense of purpose within the parish community. If you feel that Christ, through the Holy Spirit, may be calling you – come! All are welcome regardless of how long you have been a member of the parish.
How do I register?
When you decide to attend, register as described in the bulletin. Please take advantage of this spiritual renewal opportunity. You can complete this registration/brochure form on your computer, then print and mail it to the Parish Office. There is also a secure drop-off box just outside the Parish Office doors. The form is also available in the Parish Office and church brochure racks.
Rev. Mr. Tom Huff
Deacon/WELCOME Coordinator/Sponsor Couples Coordinator