This Sunday we celebrate Saint Patrick's Day.  It is a very special day for people of Irish heritage.  The publication Stubhill News reported that Pope Francis urged Catholics to "keep St. Patrick in St. Patrick's Day."  Our Holy Father criticized the commercialism that unfortunately has become part of the day, and which tempts people to compromise their spiritual integrity.  He urged all Catholics to "…awake in the morning and ask St. Patrick to pray for us" before carrying out our daily routines.  He also stated that we should remember "…the real reason for this day as we interact with the world around us."
As we reflect on these words of Our Holy Father, we are reminded that St. Patrick was a priest and later bishop to the Irish people in the fifth century.  As a boy, while living in England, he was kidnapped and taken to Ireland where he lived as a servant.  After about six years, he escaped and went back to Britain.  He later returned to Ireland as a missionary and brought the gospel message to the Irish people.  He taught them about the Christian God and prepared many of them for baptism and entrance into the Catholic Church.  Saint Patrick often made use of a shamrock, a three-leaf clover, to teach about the Trinity (the Father, Son, and Holy Spirit).  He worked tirelessly in his ministry as he guided the people entrusted to his care.
The following "Prayer to Saint Patrick" asks for his special intercession: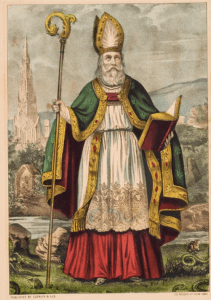 O GREAT APOSTLE OF IRELAND, GLORIOUS ST. PATRICK, TO WHOM UNDER GOD, SO MANY ARE INDEBTED FOR THE MOST PRECIOUS OF ALL TREASURES, THE GREAT GIFT OF FAITH, RECEIVE OUR FERVENT THANKS FOR THE ZEAL  AND CHARITY WHICH HAVE BEEN TO THOUSANDS THE SOURCE OF BLESSINGS SO VALUABLE.
ASK FOR ALL WHO DWELL IN THIS LAND AND THE LAND OF THY LABORS, THE PRECIOUS LIGHT OF FAITH, AND BEG FOR US ON WHOM ITS GLORIOUS RAYS HAVE LONG SINCE BEAMED, THE GRACE TO REGULATE OUR LIVES BY ITS SACRED MAXIMS.  AMEN.
As we reflect on this prayer, we are reminded to focus on Christ and our faith and think about the glory of the Resurrection that awaits us.  The season of Lent is a good time to ask for the intercession of Saint Patrick and bear good fruit in our lives.  We are invited and challenged to follow the example of Saint Patrick and truly be faithful witnesses to the Gospel as we continue and persevere on our Lenten journey of faith.