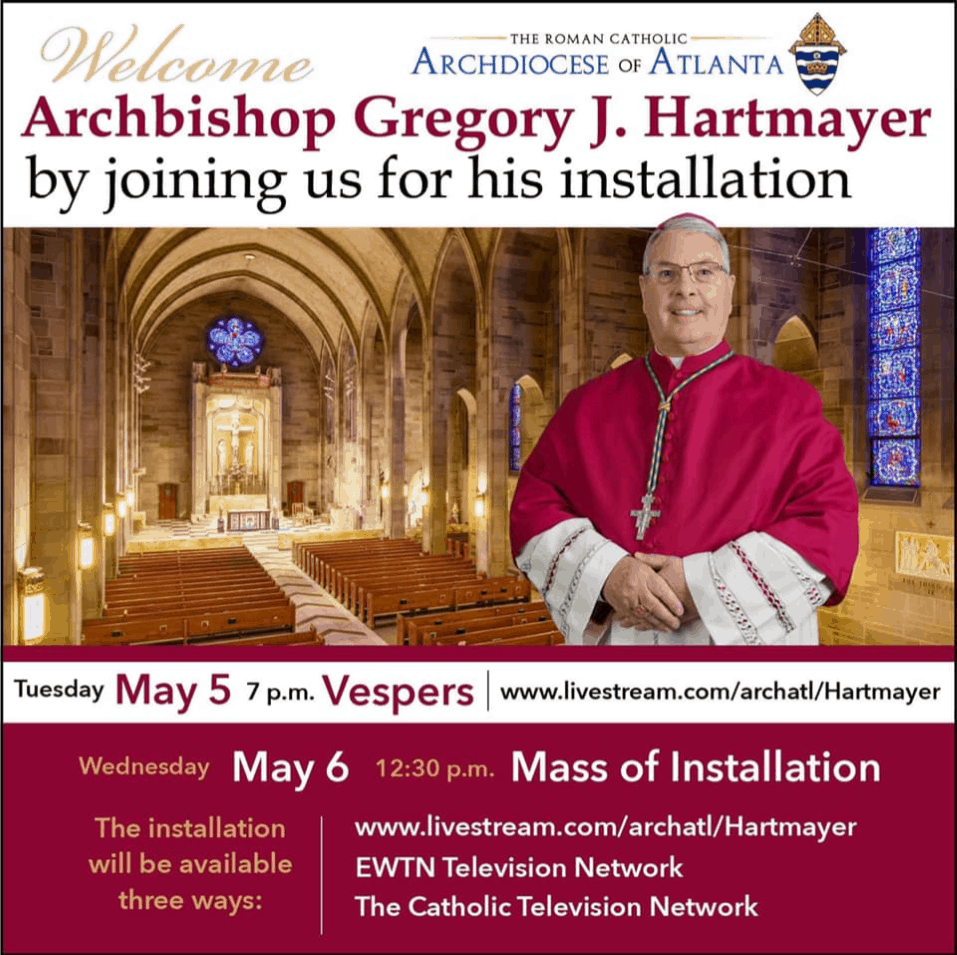 Pope Francis recently named Bishop Gregory Hartmayer as the new Archbishop of Atlanta.   He will be installed on May 6th.  Bishop Hartmayer is a Franciscan priest and is currently serving as the Bishop of Savannah.  He is very familiar with certain aspects of the Archdiocese of Atlanta having served as a Pastor here for more than fifteen years, primarily at Saint Philip Benizi Church in Jonesboro.
As reported in the Georgia Bulletin, he looks forward to assuming his new responsibilities, stating that one of his challenges "will be to be available, to be visible, and to visit and to be present to as many of the faith communities, and educational institutions and other institutions, social outreach, and as much as I can I look forward to seeing more and more of Atlanta and what is going on here."
Bishop Hartmayer joins us in a time of great upheaval in Churches throughout the world due primarily to the impact of the COVID-19 virus.  He stated, "These are difficult times in our society and I think people are looking for something, as they always have, to hold on to that has roots (that) has tradition that has meaning, has depth.   And I think the Catholic Church continues to offer that depth despite our imperfections."
As a Pastor, Bishop Hartmayer has dealt with difficult times in the past.  In an Easter reflection written many years ago while he was a Pastor, he challenged the faithful to consider the empty tomb of Jesus and how it can impact their lives.  His words are very relevant today as we strive to deal with this time of uncertainty.  He stated, "Sometimes it is easier for us to remain in the tomb, depressed or anxious, no matter how painful.  Sometimes it is just easier to remain in the tomb than it is for us to straighten up or settle down or to do something to help ourselves."
"God did not make us to lie in a tomb or be burdened by a gloom and doom view of the world.  God is not to be found in the evil that entraps us.  He is found in the love, compassion and forgiveness he raises in the hearts of those men and women whose lives reflect God's presence in their midst."  This is, in essence, a message of hope for us to consider.
Bishop Hartmayer is also a strong supporter of Catholic education, having served as a Catholic school teacher, educator, and principal.  He stated, "…my major reason for supporting Catholic schools and giving them the attention I think they need is to ensure that they remain Catholic, and the faith is passed on, in an understandable and practical way."
As we reflect on the sentiments, experience, and background of Bishop Hartmayer, we are invited to keep him in our prayers as he assumes his role as shepherd of our Archdiocese.