Today we celebrate Father's Day and we remember fathers in a special way.   As we know, Pope Francis has placed great emphasis and focus on fatherhood, reminding us that being a father is a great privilege and also a great responsibility.  Many of our parishioners are fathers, and they are challenged to set a good example for their children as they grow in wisdom and knowledge.
In one of hi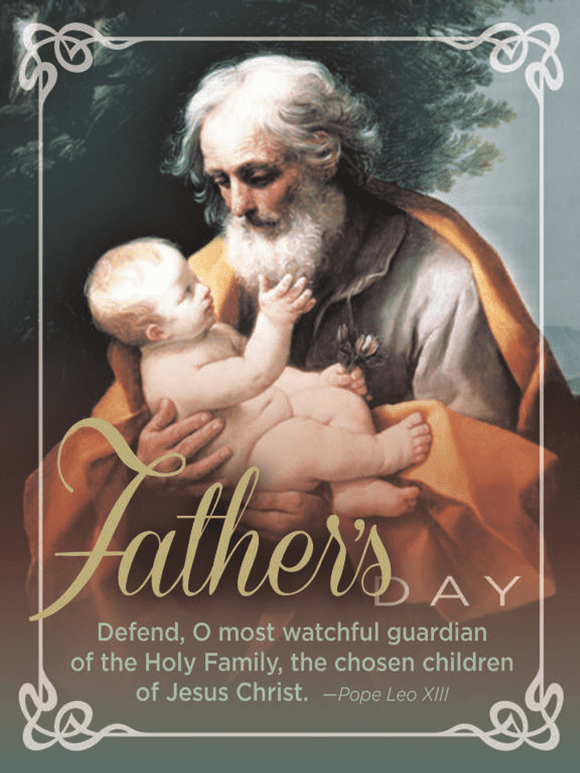 s weekly addresses, on Father's Day in Italy, as reported in the publication "Catholic News Service", Pope Francis specifically addressed fathers, stating, "I ask that you have the grace to be very close to your children, letting them grow, but being by their side.  They need you, your presence, to be there, your love."  He encouraged fathers to look to St. Joseph as their model, indicating that St. Joseph's great mission is to be a guardian.  Our Holy Father noted, "Even though God was Jesus' Father, St. Joseph lovingly took on the paternal role and taught the young Jesus various skills, the value of work, reverence for the Lord, and fidelity and obedience to God's will."
Pope Francis indicated that St. Joseph faced hardship, suffering, and trials during his journey of faith.  He encouraged the faithful to learn from St. Joseph that "only trust in God can turn doubt into certainty, evil into good, total darkness of the night into a radiant dawn."  We are challenged to take these words to heart as we deal with many uncertainties and trials at this time due primarily to the impact of the COVID-19 virus.  Our Holy Father also called on us to honor our fathers, noting that our love for our fathers should reflect the love that God has for all of us.  One way we can honor our fathers is by assisting in their care in their later years, after the many years they have cared for us in so many different ways.
The following prayer from Jesuit Resources Online, Author Unknown,  calls upon our Heavenly Father to bless and guide all fathers:
Heavenly Father, you entrusted your Son Jesus, the child of Mary,

To the care of Joseph, an earthly father.

Bless all fathers as they care for their families.

Give them strength and wisdom, tenderness and patience;

Support them in the work they have to do,

Protect those who look to them, as we look to you for love and salvation,

Through Jesus Christ our rock and defender,

In union with the Holy Spirit, our God forever and ever.

St. Joseph, pray for all our fathers,  Amen.
As we reflect on this prayer, we are invited to take time on this day to express our love and appreciation for our fathers and thank them for all that they do for us and for all that they mean to us.