Saturday on this weekend we celebrate the Fourth of July, Independence Day.  On this day, we remember and appreciate the birth of our nation.   As previously noted, Catholic author Norm Langenbrunner reminds us that Independence Day is also a time "…for remembering the courage and sacrifice of our nation's founding generation, and succeeding generations who have imitated them.  From the Lincoln Memorial in DC to the sunken Arizona in Pearl Harbor, Americans pause to remember and many whisper a prayer of thankfulness."
As we celebrate the birth of our nation, and as we reflect on these profound words, we also acknowledge how dramatically the fabric of our nation has changed in a few short months due primarily to the impact of the COVID-19 virus.  Our robust economy has been significantly curtailed, and certain businesses have been forced to close, causing many people to lose their jobs.  Even various government directives and guidelines concerning the temporary closing of businesses, churches, schools, parks and beaches may have caused us to reflect on the freedoms we may at times take for granted.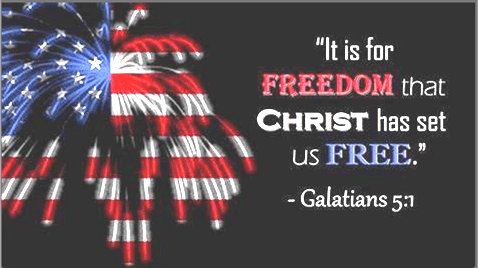 As Catholics, we are called to truly cherish in a very special way the many freedoms we enjoy in this country.  The United States Conference of Catholic Bishops recently sponsored "Religious Freedom Week".  They reminded us that there is a need to reaffirm our commitment to guard and protect our freedoms, especially our right to religious liberty.  There is also a need to strengthen the moral foundation of our country, a moral foundation based on faith and trust in the Lord.
As we celebrate Independence Day, we are invited to pray "A PRAYER ON INDEPENDENCE DAY" provided by the publication, "The Catholic Telegraph":
Gracious and loving God, let Your spirit be with us today. 
Hear our prayers, and increase in us the will to follow Your son Jesus.
Help us to draw on the resources of our faith as we use the opportunities of our democracy to shape a society more respectful of the life, dignity, and rights of the human person, especially the poor and vulnerable.
We ask this through Jesus Christ, Your Son, who lives and reigns with You in the unity of the Holy Spirit, one God forever and ever.    Amen.
As we reflect on this prayer, we look forward to the time when our great nation will once again flourish, and we are encouraged to take time to thank God for the many freedoms we enjoy, and to reaffirm our commitment to protect and preserve those freedoms.