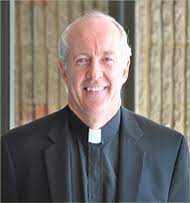 We welcome Fr. Darragh Griffith to our Saint Brigid parish family as our new parochial vicar.  Fr. Darragh was born and raised in Ireland and has been inspired by the examples set by Saint Brigid and Saint Patrick.  He has served as a priest in the Archdiocese of Atlanta for many years, in various capacities and has witnessed the rapid growth of the Catholic Church in the Archdiocese.
Fr. Darragh is thankful for the spiritual vitality that is evident in the Saint Brigid faith community and is anxious to assist our parishioners through his priestly service.  He will strive to focus on the essentials of his priesthood, including celebrating Mass, hearing confessions, and visiting the sick, in addition to other assigned duties.  Fr. Darragh also appreciates the communal dimension of our faith.  He stated,
"We journey together as a community as we pray the Stations of the Cross, go to confession and glean grace from the Sacrifice of the Mass."
Fr. Darragh also enjoys playing golf and listening to Irish music.
Details concerning a reception for Fr. Darragh will be provided in the Church bulletin and on the Parish website in the near future.   Please pray for Fr. Darragh and welcome him to our faith community.