One of the seven sacraments of the Catholic Church is the Anointing of the Sick.  As reported by the media outlet, The National Catholic Register, Pope Francis indicated that the purpose of the sacrament is to bring Christ close to the recipient.  He stated, "Every time we celebrate this sacrament, the Lord Jesus, in the person of the priest, comes close to those who suffer and are gravely ill or elderly."
Many of us know family members or other loved ones who have been ill, and who have availed themselves of this great sacrament.  It has been a source of comfort for many people.  As described in "Pastoral Care of the Sick", as previously noted, our Church teaches that the Sacrament of Anointing is the proper sacrament for those Christians whose health is seriously impaired by sickness or old age.  It may be celebrated in the home, in a medical facility, or in Church.  The priest ministers the sacrament on behalf of the whole community.  The sacrament should be celebrated with members of the family and other representatives of the Christian community whenever this is possible.  The person to be anointed should also join in prayer if physically able.  The sick person is strengthened to fight against the physically and spiritually debilitating effects of illness.
The following "Prayer for the Sick", from Catholic Online, encourages us to pray for those in our faith community who may be struggling with illness: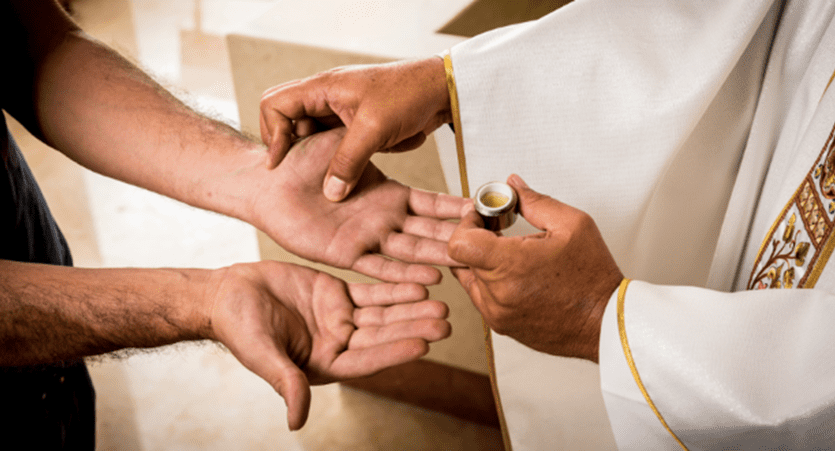 Father of goodness and love, hear our prayers for the sick members of our community and for all those who are in need.
Amid mental and physical suffering may they find consolation in Your healing presence.
Show Your mercy as You close wounds, cure illness, make broken bodies whole, and free downcast spirits.
May these special people find lasting health and deliverance, and so join us in thanking You for all Your gifts.
We ask this through the Lord Jesus who healed those who believed.   Amen.
As we reflect on this prayer, we are reminded that the Church also allows for the Communal Anointing of the Sick.  This communal anointing should take place in a Church, chapel, or another appropriate place where the elderly and others can easily gather with proper distance and health precautions.  After a temporary pause due to the impact of the COVID-19 Virus, we once again offer the "Communal Anointing of the Sick" at Saint Brigid on the third Sunday of the month at 2:00 PM. 
We also offer individual anointing as needed primarily at the Church or in a medical facility.  We advise our parishioners and their loved ones to participate in this wonderful sacrament of healing when appropriate and avail themselves of the power of Our Lord's saving grace.