Next Saturday, many married couples in our faith community will renew their marriage vows after the 5:00 p.m. Vigil Mass, and then gather in Corbett Hall for their annual Sweetheart Dinner Dance, as they await Valentine's Day.  They will focus on the sacrament of marriage and affirm Christ as the foundation of their marriage.  They will also affirm their love for their spouse and more importantly their love for Christ.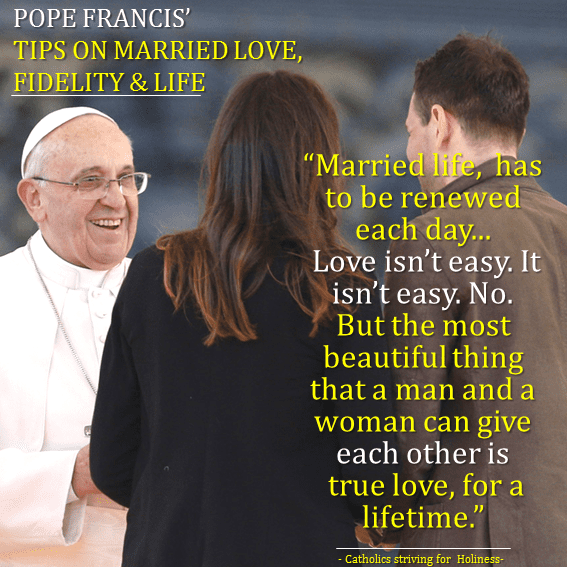 Pope Francis has a great understanding of, and appreciation for, the sacrament of marriage.  In an address reported in the publication, "The Catholic World Report", Our Holy Father stated, "We were created to love, as a reflection of God and His love.  And in a matrimonial union, the man and woman realize this vocation, as a sign of reciprocity and the full and definitive communion of life."  He further indicated, "Married couples, thanks to the Sacrament, are invested with a genuine mission, that of making visible, starting with simple and ordinary things, the love Christ has for His Church."
Pope Francis also expressed his compassion and concern toward couples who are struggling in some way in their marriages.  He stated, "The plan inherent in marriage is truly wonderful!  It is expressed in simplicity, and also the fragility of the human condition.  We are well aware of the many difficulties and trials that there may be in the life of a married couple.  The important thing is to keep alive the link with God, which is the basis of the matrimonial bond."
As we reflect on these words, we also remember those friends, relatives and neighbors whose marriages may be troubled.  We pray that they will turn to the Lord and seek reconciliation as they strive to address their difficulties.  We also remember those friends, relatives and neighbors whose marriages have not endured for one reason or another, and we pray that they may seek the healing they need, especially when appropriate through the process of annulment available through the Catholic Church.
Our Church teaches that Christ is the sign and sacrament of God's presence in the world and that the married couple then joins Christ as an outward sign of the love of God.  They are able to open themselves to each other in love because God has first loved them.  Pope Francis reminds all of us, "Married life is beautiful, and must be protected."  As we reflect on these profound words of Our Holy Father, we congratulate those couples who will be renewing their vows next Saturday, and we pray that many single people will be called to embrace the sacrament of marriage as they continue on their journey of faith.