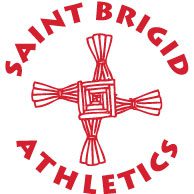 Welcome to Saint Brigid Athletics.
The Saint Brigid children's athletic leagues are open to all boys and girls who are parishioners of St. Brigid Catholic Church, St. Benedict, and St. Andrew or attend Holy Redeemer Catholic School. We offer Soccer, Basketball, and Girls Volleyball.
All St. Brigid Athletic Ministry programs are run by active parent volunteers. The success of the children's athletic program is dependent upon volunteers serving as coaches and assistant coaches.   We have a Program Director and Athletic Director who help administer the program but the actual coaching is all done by parents.  Parent participation is encouraged, and you will enjoy the program more as you become active with the children.  Please prayerfully consider participating in this important children's ministry.  Please contact Bryan McFarland if you are interested.
All volunteer parents must have completed the VIRTUS Program screening and training before becoming involved with the program. More information is available at https://archatl.com/ministries-services/safe-environment/virtus-protecting-gods-children/.
At Catholic Metro Sports We Stand for Fun, Ministry, Sportsmanship and Faith. Help us support spiritual growth through athletics in the Atlanta Archdioces. www.catholicmetrosports.com

Posted by Catholic Metro Sports of Atlanta on Friday, July 26, 2019
---
Boys and Girls Basketball Fall 2019-2020
Now OPEN  Kindergarten to 8th grades  

If you have any questions, please send a message to David Barber at davidhbarber@gmail.com.
It's time to register for the 2017-2018 Catholic Metro League of Atlanta (CMLA) fall basketball season. The CMLA hosts competitive non-profit youth basketball in cooperation with other North Atlanta Catholic Schools and Parishes.  CMLA basketball players' will experience agility, stamina, strategy, responsibility, mercy, defeat and triumph in a faith-based environment.
Registration starts August 7th.  All parishioners from Saint Brigid, St. Benedict or Holy Redeemer students are eligible. Cost is $140 covers uniforms, league fees, and tournament.
You can find detailed information at the Catholic Metro League of Atlanta website at http://www.eteamz.com/cmla/ .
REGISTRATION Kind to 2nd Grades (Co-ed)
Season: Sundays from October through December.
Registration Fee is $79 and closes on September 30th.
T-Shirt is included in program fees.
The schedule is  1 hour on Sunday afternoons,  time TBD

 REGISTRATION 3rd to 8th Grades:
Registration Fee is $150 and closes on September 6th.
The Uniform is included in program fees.
Practices start late September.
Games are played on Saturdays from November through  February.
---
Boys and Girls Fall Soccer 2019

NOW CLOSED
The St. Brigid Soccer Program is run by volunteers of the St. Brigid Athletic Ministry.  Registration is ONLY  for  Holy Redeemer students or St. Brigid Parishioners.  Registration starts July 1st and closes on August 8th.
K-8th Registration is $ 115
Pre-K Registration is $ 90.
Uniforms – Soccer Jersey Program:  Returning (K-8th) players will reuse the uniforms from last season, but have the opportunity during registration to purchase a new uniform.  New registrants will need to purchase a uniform.  PreK program includes a uniform.
Soccer Field Maps & Locations at http://cmslatl.blogspot.com/p/field-maps-and-address.html.
Fall 2019 Schedule

If you have any questions please contact Jonathan Whitehead jonathan.w.whitehead@gmail.com