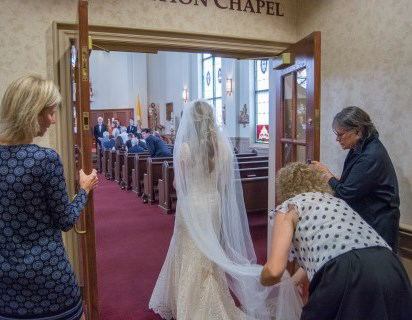 Small teams of Wedding Assistants assist our parish Wedding Directors at each rehearsal and wedding held at Saint Brigid to ensure that each wedding is truly a wonderful celebration of the Sacrament of Marriage.  Requirements: A love of weddings and the sacrament of Marriage, a warm and caring attitude, and a sincere willingness to be helpful.
Time: One hour for rehearsal which is usually on a Friday evening and two and a half hours on a Saturday.  Wedding Assistants receive a schedule of weddings and sign up based on their availability. There is no minimum requirement on the number of weddings you must do. Rehearsals are normally at 6:00 pm, 6:45 pm and 7:30 pm depending on the number of weddings. Weddings are scheduled for 11:00 am, 2:00 pm and 7:00 pm.
         Assist the Wedding Director and members of the wedding party at the rehearsal.
Church setup – Help to set up the altar, put programs in the reserved pews or whatever the Wedding Director needs done.
Bride – Assist the bride and her bridal party on the wedding day in preparation for the ceremony.
Groom – Assist the groom and his groomsmen on the wedding day in preparation for the ceremony.
Lobby – Hand out programs and welcome each guest as they arrive with a smile and a greeting.
Greeters – Welcome and direct our guests to the proper wedding location.
**If you are a wedding couple interested in being married at Saint Brigid, please go to the Getting Married at Saint Brigid page in the Sacraments menu.
Rachel Coco
Director of Stewardship/Business Office/Wedding Ministry