Women's Spiritual Events
Faithfully Flourishing Together- 2023 Women's Day of Reflection
January 21st – 9:00 AM – 2:30 PM – Corbett Hall
Here is the link to register for this event Women's Day of Reflection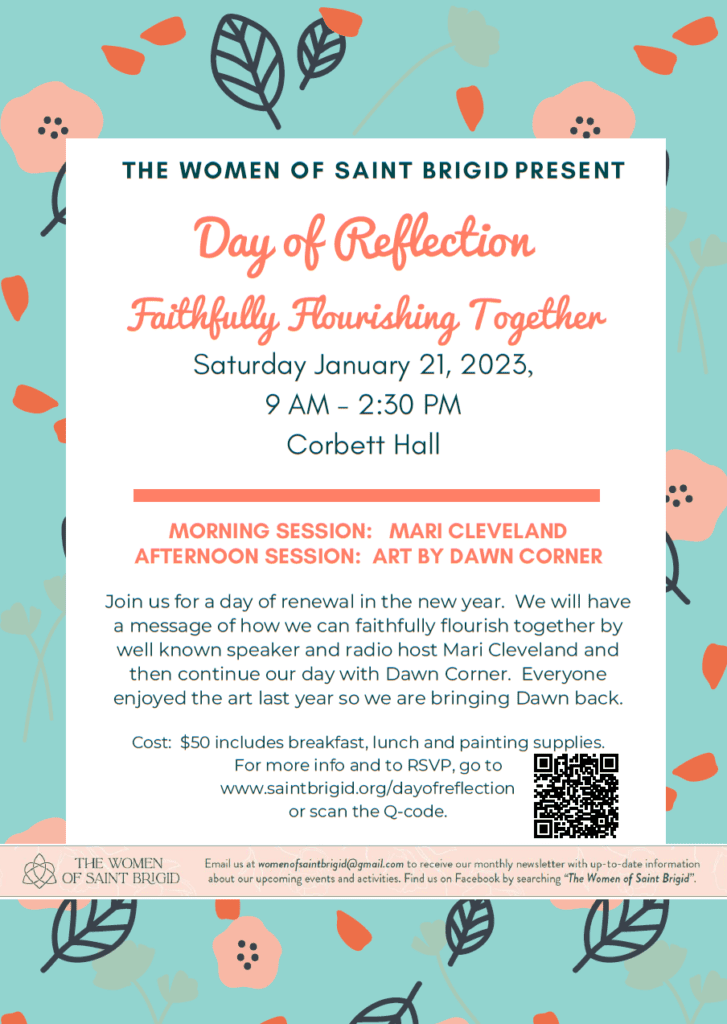 Here is the link to register for this event Women's Day of Reflection.
Mari Cleveland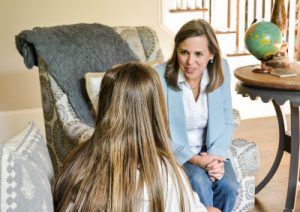 Mari enjoys leading retreats and giving talks across the Atlanta archdiocese and has served as a Stephen Minister, Bible study leader, and spiritual director for a Christ Renews His Parish team. Mari was blessed to grow up on Guam, a 98% Catholic island where every village has its own patron saint and what Mari describes as "the most generous people in the world!" Mari and her husband, George, are parents of two college-aged children, John and Lilly, both graduates of Blessed Trinity Catholic High School. The Clevelands are parishioners at Saint Jude the Apostle and have been active in various ministries including Parish School of Religion (PSR), Edge, Alpha, Ministry to the Sick, and St. Vincent de Paul. Mari was recognized as Saint Jude the Apostle's 2017 Woman of the Year. Mari hosted Shelter in Peace, a local show that began airing on The Quest in April 2020 in the beginning of the Covid-19 pandemic as a way to offer listeners encouragement and prayers. That show grew from "an idea for one or two episodes to pray for our listeners" to become a weekly show offering support, hope, and opportunities to grow in faith on a variety of topics. Mari has 30+ years business experience in human resources, sales, and training and provides leadership training for Fortune 500 companies.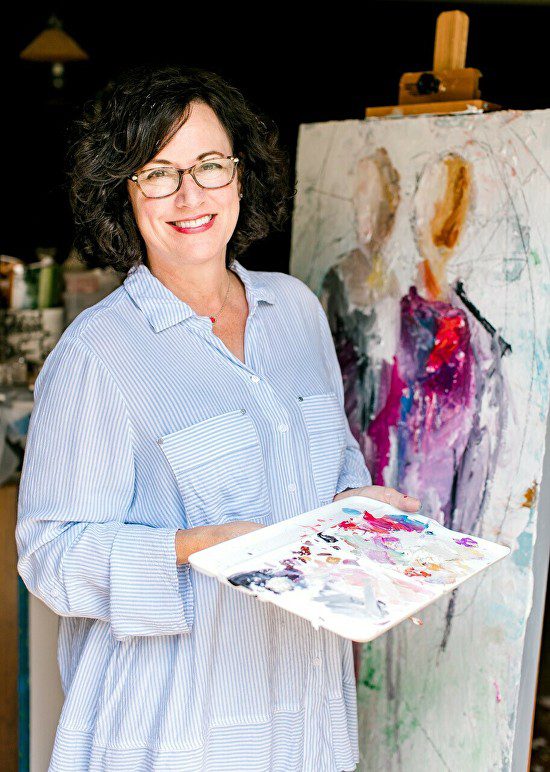 Dawn Corner
Dawn is a self-taught artist, who has been painting and teaching for over 10-years and has perfected her painting style with acrylic and collage on canvas and paper. Her paintings are characterized as a deep layering of colors and textures finished with a glossy glaze to draw out the intensity of colors. One of her favorite subjects are angels. She gravitated to painting angels after being inspired by her mother. When painting angels, she starts not always knowing the outcome but allows her intuition to trust the process letting the angels develop and come into being. Whether it's trees, flowers, buildings or animals her work is intentionally created from an abstract expressive play with colors, constantly experimenting and changing until the layers and image come into focus. Dawn has studied with many notable artists including Robert Burridge. Her Angels can be found in the serene environment of Yoga Studios and meditative centers including Galleries and private collections through-out the U.S.
Breakfast with the Easter Bunny
Join us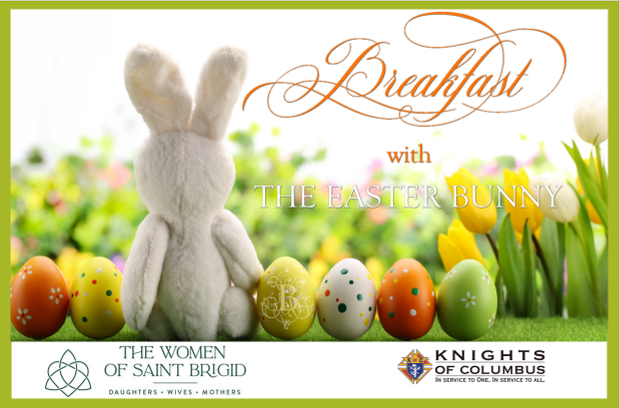 Holly Days Market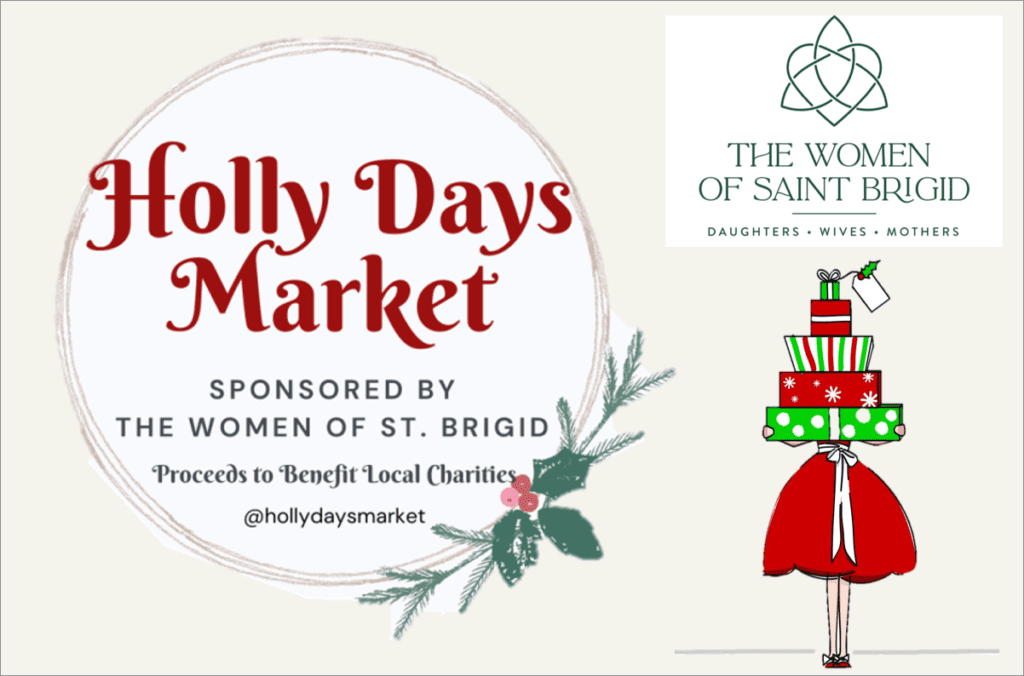 Thursday, November 10, 2022 6:00 – 9:00 pm
Friday, November 11, 2022 9:30 am – 1:30pm
The Women of St Brigid are sponsoring a two-day Holly Days Market at St Brigid Church, 3400 Old Alabama Road, Johns Creek, in Corbett Hall.
Find unique gifts from a variety of vendors, including home & holiday décor, original painted artwork, personalized & embroidered items, children's items & accessories, clothing, handbags, religious art, jewelry, and pottery.
Bring a friend and enjoy a sip 'n shop Thursday evening!
Raffle tickets are available at the door for drawings of great prizes with proceeds from the event benefiting local charities. The public is invited and admission is free.
The Holly Days Market is our biggest fundraising event of the year.
Visit their Facebook page to see a selection of our vendors at www.facebook.com/hollydaysmarket.
Childrens Playgroup Events (monthly)
Pumpkin Patch Playdate at Scottsdale Farms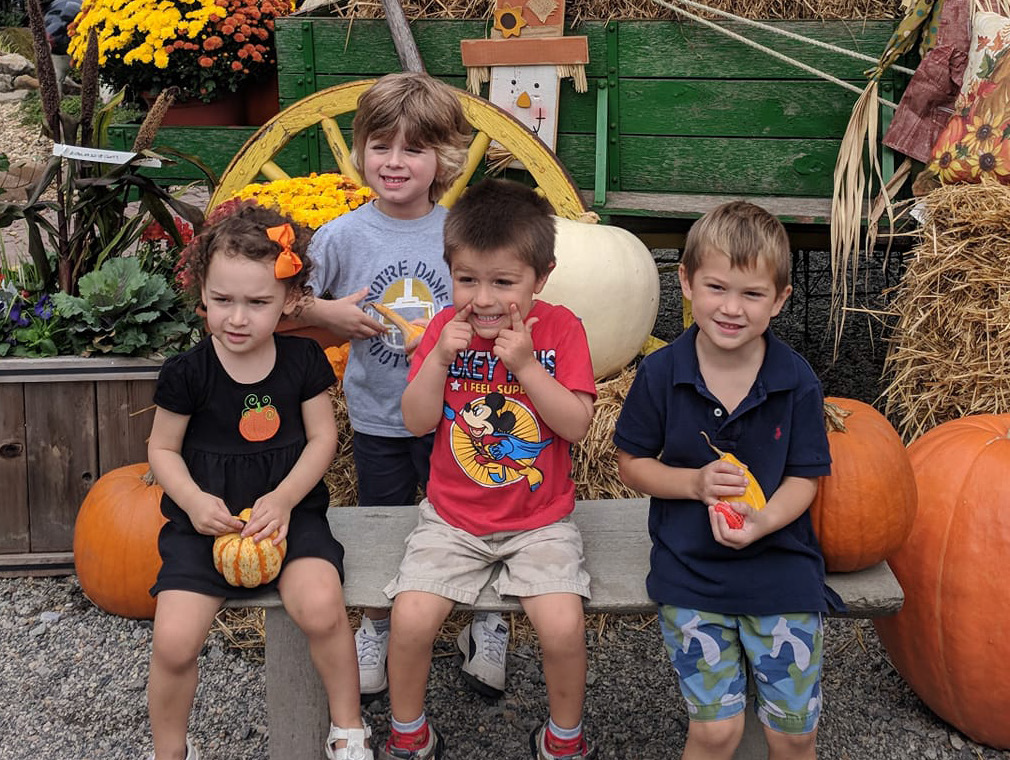 Friday, October 21st, 2022 10 AM – 1:00 PM
Scottsdale Farms15639 Birmingham Hwy, Milton, GA 30004
Come join us for an afternoon of fall family fun at Scottsdale Farms!

 Enjoy the pumpkin patch, animal farm, and playground for free. Hayrides are also available for $8 (credit or debit card only). Children age 4 and under are free.

We will gather for lunch around 11:30 am; other activities are flexible in timing. If you would like to have lunch with us, Scottsdale has asked us to order food ahead of time (Many delicious menu options, including kids' meals, at the Sign-Up link below) to be paid individually when there.   **Food orders need to be submitted by Friday 10/14 by commenting your order on your RSVP. Note that outside food, other than food for infants, is not permitted. 

If your plans change last minute, please let us know ASAP so that we can cancel your food order (or else we will still be charged for it if you do not show up). **We will try to all sit together for lunch, but we may have overflow outside onto picnic tables. Scottsdale has a few high chairs, but if your children require a high chair, you may want to bring any portable chairs you have to ensure there are enough high chairs for everyone! RSVP below!  

Feel free to reach out to Kim Kindrick (kimkindrick31@gmail.com) with any questions.   

https://www.signupgenius.com/go/4090a44a8a72cab9-pumpkin
---
Christmas Cards for Nursing Home, TBA
---
Family Bingo Night Fundraiser TBA
Children's Spiritual Events (monthly)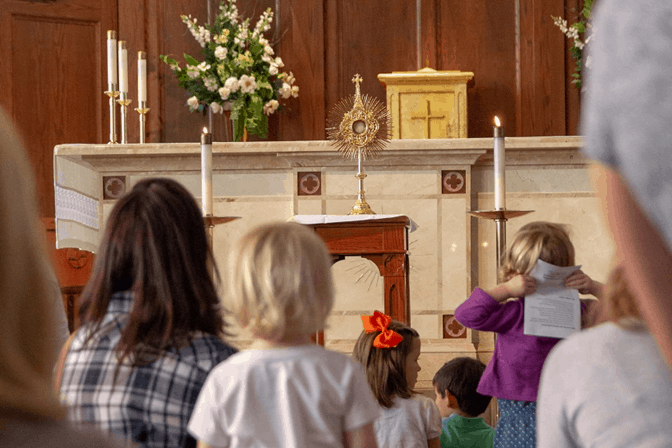 Children's Stations of the Cross, TBA
Please join us on October 21, 2022, at 6:30 PM in the main Church for Family Adoration!
At 7:00 PM, following Family Adoration, we will gather in Corbett Hall to enjoy a pizza dinner together.
This is an opportunity for The Women of Saint Brigid to gather with our families and give younger children a chance to see the altar up close and enjoy prayer, praise, and Adoration with the Blessed Sacrament. Children of all ages are welcome, even the little ones who like to make joyful noises.
Please RSVP below by Wednesday, October 19 so we know how much pizza to order.
Questions? Please email vanessa.t.sassano@gmail.com
RSVP at https://www.signupgenius.com/go/10c0d4fabad2ea7f5c61-family.
---
Children's Stations of the Cross, TBA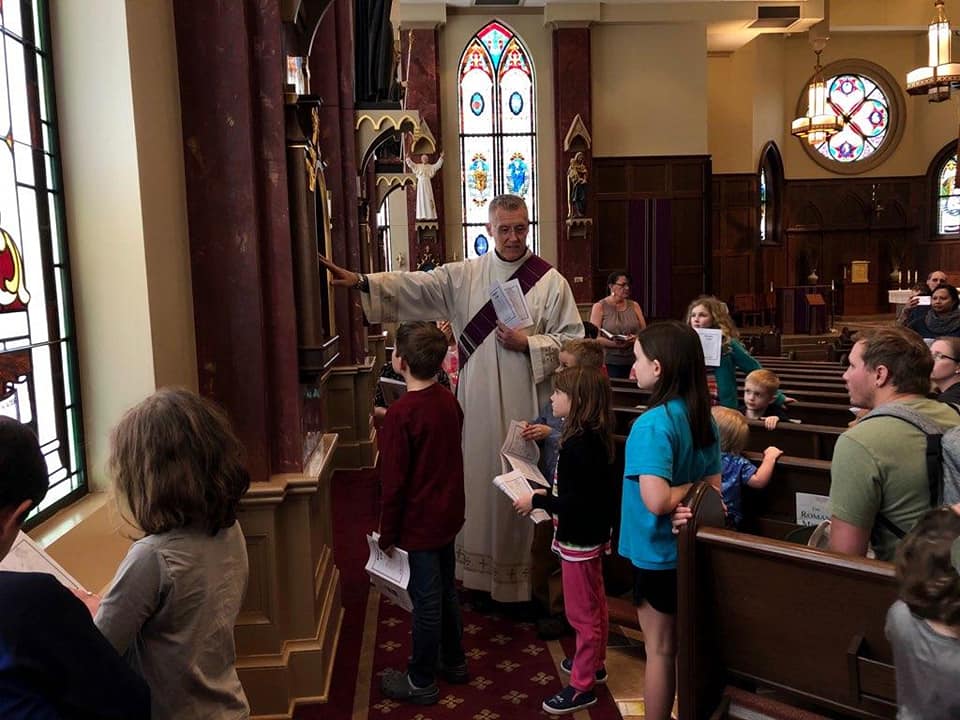 Women's Night Out Socials
WOSB Mardi Gras and Bunco
Thursday, February 16, 2023 7:00 PM in Corbett Hall

Let's just call it Fat Thursday! We are celebrating a little early. Join us for some fun fellowship. We will play games and have dessert and wine. It's a casual night to enjoy the company of our friends before the season of fasting and abstinence begins
Please RSVP at: Mardi Gras Night
Questions? Email Joan Pepper at joanpepper15@gmail.com for information.
---
Ladies' Night Out at Board & Brush, TBD
---
Ladies' Night out at Top Golf, TBD
---
Ladies Night Out for Cinco de Mayo at Senor Patron, TBD
---
Women of Saint Brigid Fall KickOff, Wine & Beer Tasting 2022
Thursday, October 28, 2022 at 7:00 – 9:00 PM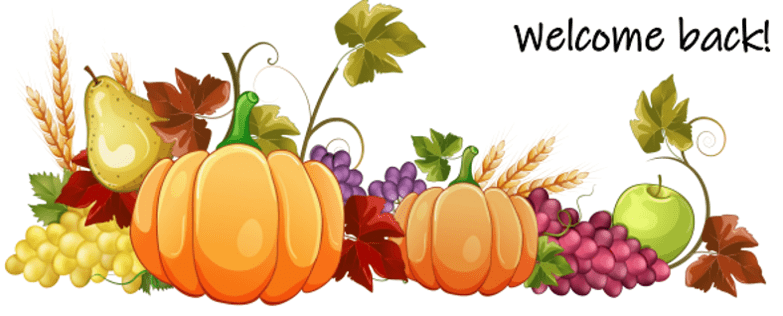 We are so excited to start out a new season of sisterhood and fellowship after so much time apart! It's time to get back to what women do best …. community! $ 10.00 donation is appreciated. Please contact Colleen Crupie at ccrupie@saintbrigid.org with any questions.
RSVP via https://www.signupgenius.com/go/60B0848A4AF29A20-women1.
---
Fall Minis Photography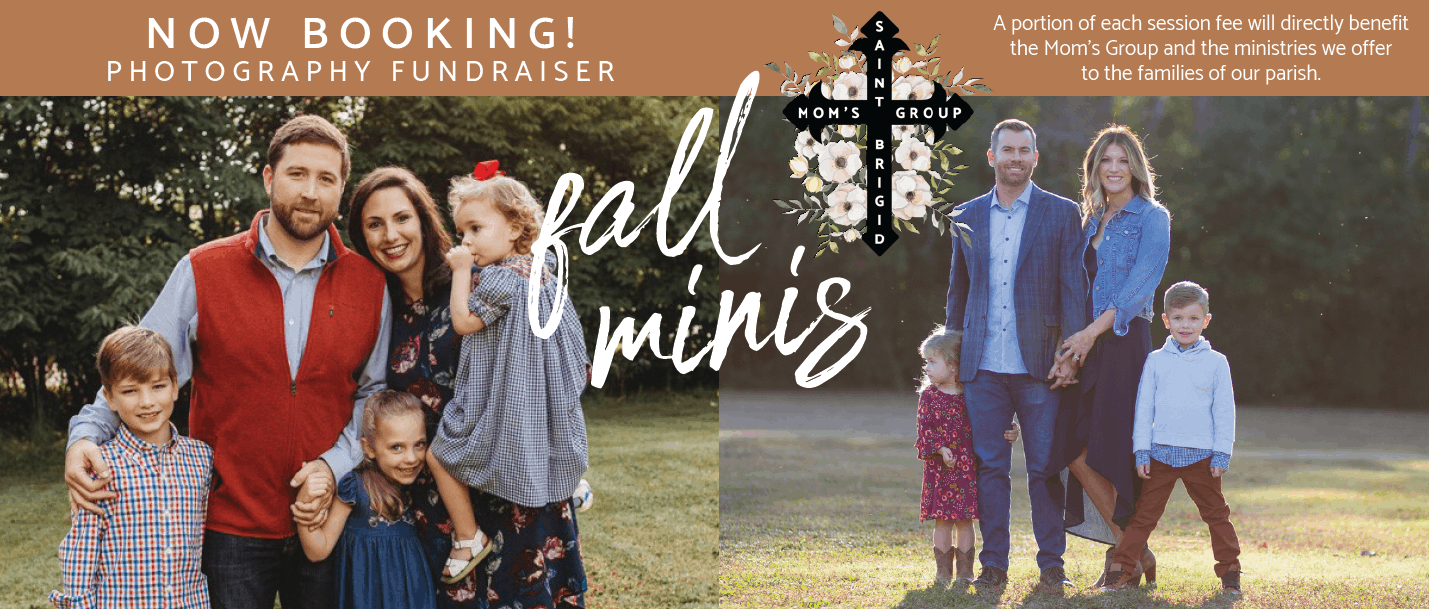 Look for this event in the fall of 2022
Women, Moms and Children Giving Back Service Events
Parent's Night Out
ON HOLD DUE TO COVID-19
PNO is a babysitting co-op of parish families that meet one Saturday evening each month during the school year plus on a bonus Christmas shopping day in December. This fundraiser ministry for the Mom's Group also allows YOU time with your spouse knowing your child is having fun at the same time!
What is a babysitting co-op? The PNO program consists of 10 scheduled dates throughout the school calendar year.  As a registered family of PNO, you and your spouse are required to babysit just 2 of the 10 dates.  That means that you get 8 wild-n-crazy date nights to yourself at a cheaper rate than paying a babysitter to come to your house!!
All registered PNO parents are pre-screened through the Archdiocese and must be registered parishioners of St. Brigid.  PNO is a great way to meet more families in the parish as well as introduce your kids to new friends! Your child will start to look forward to seeing the other kids involved.
For More Info Contact:  Mandi Whittaker at: 770-380-7607 or mandi.whittaker@gmail.com