The 2019 Archdiocese of Atlanta Eucharistic Congress will take place on Friday, June 21, and Saturday, June 22 at the Georgia International Convention Center in College Park, GA.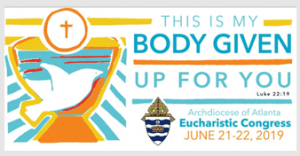 The Congress is sponsored by the Archdiocese of Atlanta.  The theme of this year's Congress is "THIS IS MY BODY GIVEN UP FOR YOU" (Luke 22:19).  At the Eucharistic Congress, we acknowledge the real presence of Jesus in the Eucharist, and acknowledge the Eucharist as the source and summit of our faith.   We nourish together on the Bread of Life in the Eucharist and then go forth in loving service of our brothers and sisters, especially our brothers and sisters in need.
The Congress begins on Friday evening with Mass and a healing service.  It continues Saturday morning with a procession, benediction, and adoration and exposition of the Blessed Sacrament.  The Sacrament of Reconciliation and Eucharistic Adoration will be available throughout most of the day.  Dynamic speakers will be present to give powerful witness to their faith journey.  There will be special activities for young adults and children, and a Teen Track also will be provided.  The Congress concludes Saturday evening with the vigil Mass for the feast of Corpus Christi.
Participation in a Eucharistic Congress is wholeheartedly supported by Pope Francis.  A few years ago at a Eucharistic Congress in the Philippines, he stated, "At each Eucharist, the table of the Lord's Supper, we should be inspired to follow His example, by reaching out to others, in a spirit of respect and openness, in order to share with them the gift we have received."  He indicated that, "Through the testimony of lives transformed by God's love, we best proclaim the Kingdom's promise of reconciliation, justice and unity for the human family.  Our example can open hearts to the grace of the Holy Spirit, who leads them to Christ the Savior."  He also stated that, "The Eucharist is a school of humble service.  It teaches us readiness to be there for others" which "is at the heart of missionary discipleship." We are invited to take these profound words to heart as we grow in our appreciation of the Eucharist.
As we plan our activities, we are encouraged to prayerfully consider attending the Congress.  People from many different parishes and missions in the Archdiocese will be in attendance.  There is no admission charge and, as in past years, a free shuttle bus will be provided all day Saturday for those in need of transportation.   Please check the Parish website for more details.               
Bus times::
Depart Saint Brigid at  7:00 AM, 9:30 AM and 12:00 Noon.
Leave Convention Ctr. to return to SBCC at 2:00 PM, 4:30 PM and 7:00 PM.
Public Transportation: It can be easily accessed through the Skytrain from the airport to connect to Marta.