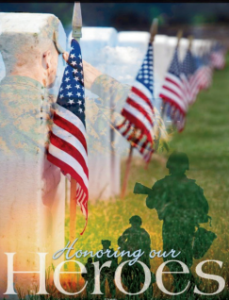 This Monday we celebrate Memorial Day and we remember in a special way those men and women in the armed forces who have made the supreme sacrifice in defense of our nation.  We pray for the repose of their souls, and for the consolation of those who mourn their passing from this world.  Many of them died in wars and in terrorist attacks. They sacrificed their lives and their freedom and helped make it possible for us to enjoy our lives and our freedom.  They were prematurely separated from family members and friends, and a grateful nation pays them homage and respect.
The following prayer for Memorial Day was provided by the United States Conference of Catholic Bishops:
O GOD, BY WHOSE MERCY THE FAITHFUL DEPARTED FIND REST,
LOOK KINDLY ON YOUR DEPARTED VETERANS WHO GAVE THEIR LIVES IN SERVICE OF THEIR COUNTRY.
GRANT THAT THROUGH THE PASSION, DEATH, AND RESURRECTION OF YOUR SON,
THEY MAY SHARE IN THE JOY OF YOUR HEAVENLY KINGDOM AND REJOICE WITH YOU AND YOUR SAINTS FOREVER.
WE ASK THIS THROUGH CHRIST OUR LORD. AMEN.
As we reflect on this prayer, we also note that this month is a special time for our loved ones and friends who are graduating from various levels of education.  Recently, the Most Reverend Michael Sheridan, Bishop of the Diocese of Colorado Springs, urged those graduating to know their vocation, for a vocation is a call from God.  He also offered them these words of wisdom: "If you keep the right balance in your lives, grounded in Christ and His Gospel, there are some things that must be a regular part of your lives.  Daily prayer is essential.  Each time we pray our perspective in readjusted.  We are reminded that God is God and we are not.  Prayer keeps our relationship with God alive, just as communicating with our friends maintains our friendships."
Bishop Sheridan, in addition, encouraged those graduating to "….enjoy the years that God gives you in this life. Use the things of the world wisely.  Live for God and for the good of your neighbor.  Never use another person for your own gratification, but remember that every person has a dignity and a sanctity that must never be violated."  As we reflect on these words, we should encourage our graduates to take them to heart.
This weekend many of us will make time for picnics and relaxation.  During this weekend, we are also reminded to pray for the repose of the souls of those in the military who have gone before us, and to truly appreciate our precious faith and freedom which we should never take for granted.