During the month of May, we honor Mary in a special way.  As we know, in our faith tradition, we refer to her as Our Lady of Lourdes and Our Lady of Fatima.  We call her Queen of Peace and Queen of the Rosary and bestow on her many other titles.  Mary is worthy of these titles because she said "Yes" to God, and lived out that "Yes" throughout the joys and sorrows of everyday living.
The Church presents Mary as a model of love in its fullness.  The love she had for Jesus and Joseph is not reserved for them alone.  It is the same precious love that she has for us, the same precious love she shares with us, an unselfish love that we should not take for granted.
Our Holy Father, Pope Francis has invited us to look to Mary for inspiration.  His great devotion to Mary is well known.  He stated, "We ask her, the first disciple, to teach us to persevere, to accompany us in patience, to strengthen us in hope.  We ask her to lead us to an encounter with her Risen Son."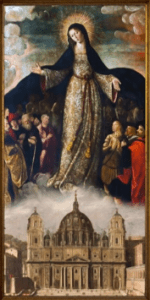 Mary is not only the Mother of Jesus but also the Mother of our Church.  The Second Vatican Council teaches that "…By her motherly love, she cares for her Son's sisters and brothers who still journey the earth surrounded by dangers and difficulties, until they are led into their blessed home."  In his great encyclical "Evangelium Vitae" (The Gospel of Life), Pope John Paul II reminds us that Mary is " … the incomparable model of how life should be welcomed and cared for."
Last year, as reported by the Catholic publication "CRUX", Pope Francis declared a new feast for the Catholic Church which is dedicated to Mary as the "Mother of the Church."  The feast is to be celebrated on the Monday after Pentecost.  The publication reported, "With this decree, devotion to Mary as Mother of the Church now becomes an approved feast for the Universal Church."  The publication also noted, "The decree observes that the veneration of Mary as Mother of the Church has ancient roots in the Catholic tradition, reaching back to St. Augustine and St. Leo the Great.  The title, the document says, is rooted in the New Testament account about Mary."
This month we are encouraged to make a special effort to honor Mary through our prayers, reflections, and our other spiritual efforts and by striving to embrace her example of compassion, generosity, and gentleness.
Mary our Queen, intercede for us.  Mary, our Mother, pray for us.