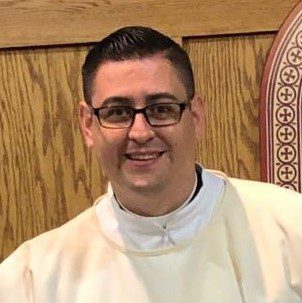 Fr. Cristian Cossio recently has been assigned by the Archdiocese of Atlanta to Saint Brigid parish.  He will serve as a parochial vicar along with Fr. Michael and Fr. Bill.  Fr. Cristian is a newly ordained priest, originally from Colombia, and has been in the United States since 2014.  He said his family has always been very supportive as he discerned his priestly vocation.
We have been asked to assist Fr. Cristian in his transition into pastoral ministry.  As we know, Fr. Michael has recently transitioned into pastoral ministry here at Saint Brigid, and should be of great help to Fr. Cristian in his first few months as a parochial vicar.
Fr. Cristian received his seminary training and formation at St. Vincent de Paul Regional Seminary in Boynton Beach, Florida.  The Seminary was established to form men for the diocesan and religious priesthood for the Catholic Church in North America, Central and South America, and the Caribbean.  During his seminary training, in addition to his rigorous studies, he participated in a program for hospital ministry.  Prior to his seminary studies, he worked in faith formation at a parish.
He is excited to begin his ministry as a priest in the Archdiocese of Atlanta.   Please welcome Fr. Cristian to our faith community.
    Published July 9, 2020, Georgia Bulletin;   Meet Fr.  Cristian Miguel Cossio
Birthplace: Colombia, South America
 What were you doing before seminary? 
"Before seminary, I completed high school in Colombia. After a couple of years, I took a break and worked as the faith formation coordinator at a local parish."
 When did you first think about priesthood? 
"Towards the end of high school, while attending the youth group."
 What pastoral learning experience made the greatest impact on you? 
"During my spiritual program ministry in a hospital in St. Paul Minnesota, I had the opportunity to serve and accompany the patients and their families, while also learning to better serve those who come and work at the hospital. This was one of the best experiences because it allowed me to serve while learning."
What excites you most about becoming a priest?
 "Being able to accompany people at different stages in life, while serving as a bridge between people and God."
How was your life impacted during the coronavirus lockdown?
 "What has impacted me the most is the desire of people to receive the Eucharist and at the same time, the increase of house churches where people practiced their faith. I have missed the community the most. Liturgy and catechesis feel uncanny without them."
Read more about Fr. Cristian discernment at:  Fr. Cristian Cossia-  article St. Vincent Seminary 2017