In these difficult and uncertain times, when many are preoccupied with the devastating impact of the COVID-19 virus, we should not forget our men and women who serve in the military and who sacrifice so much to preserve our freedoms through their dedicated service to our country.  We live in a world where the potential for war and conflict is very real.  As citizens, we should never take the service and sacrifice of our military personnel for granted.  As Catholics, we should also be thankful for the military chaplains who serve our men and women in the armed forces and their families.  Many of our military personnel are overseas, separated from spouses and children and friends for extended periods of time.  They face many personal and professional challenges.  They often need counsel and guidance.
Our Bishops in the United States, as previously noted, are sensitive to these challenges and have provided priests to serve as military chaplains for our service personnel.  These priests assist our military personnel and their families who are experiencing problems and struggles.  They celebrate Mass and bring them the Eucharist.  They hear confessions and offer absolution in the name of the Lord, and bring the Lord's gift of healing to the sick.  These chaplains strive to faithfully serve God and country.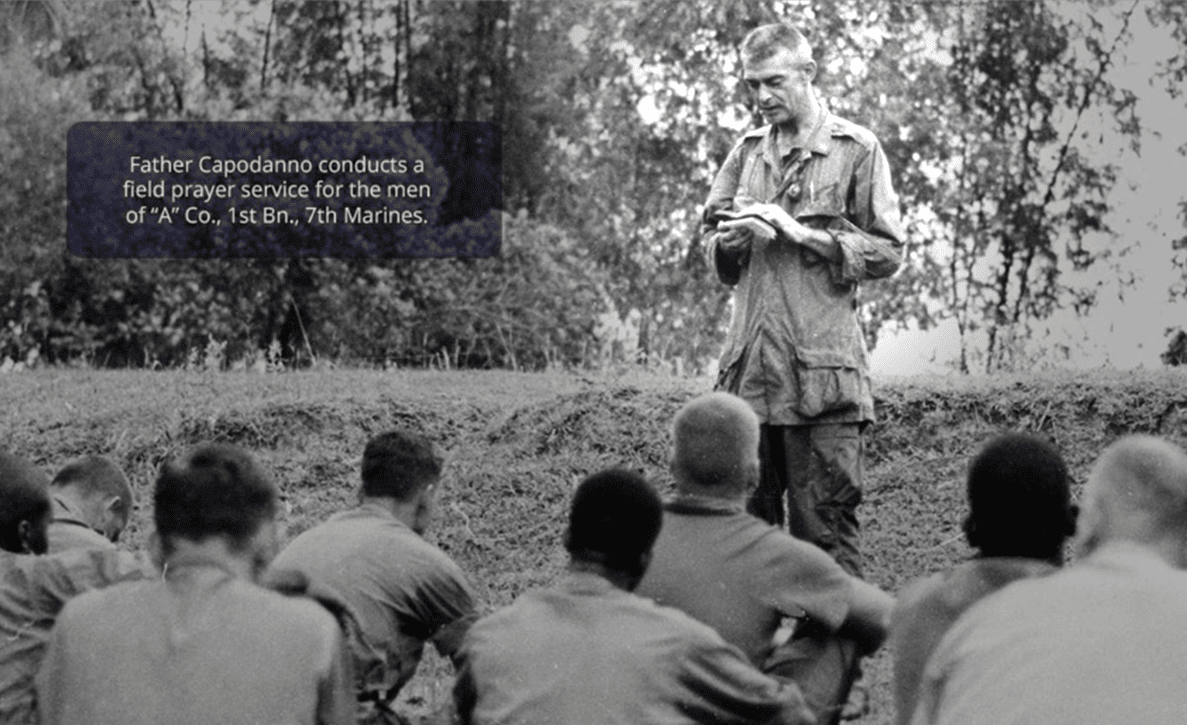 At this time, one of the Catholic chaplains of our nation, Fr. Vincent Capodanno, is being considered for sainthood.  He was the youngest of ten children and served with the Marines in the Viet Nam War.  Fr. Vincent remained close to the Marine "grunts" entrusted to his care, and earned the nickname "The Grunt Priest."  He was killed in 1967 while protecting a corpsman who was administering first aid to a soldier.  Fr. Vincent received the Congressional Medal of Honor and three purple hearts, and he is the most recognized chaplain of that era.  Many memorials have been constructed throughout the world that bears his name.  He was declared "Servant of God" in 2006, the first step toward sainthood.
The following "Prayer for Military Chaplains", provided by the Archdiocese for Military Services, USA, reflects our appreciation for the ministry and sacrifice of Fr. Capodanno and all our chaplains who serve our men and women in the armed forces:
Heavenly Father, bless and protect military chaplains and fill them with the joy and courage of their vocation as personal ministers of Christ in preaching your word and nourishing us with the sacraments.  Grant this through Christ our Lord.  Amen.
As we reflect on this prayer, please pray that all military chaplains will go forth with an inspired appreciation for Jesus and his ministry.  Please also pray that they will continue to embrace the call to faithfully serve the men, women, and families entrusted to their care.