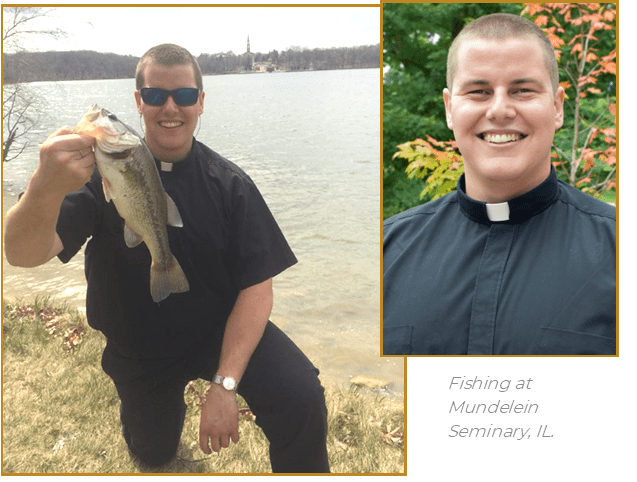 This Saturday, June 12, Robbie Cotta was ordained to the priesthood for the Archdiocese of Atlanta by Archbishop Hartmayer at the Cathedral of Christ the King.  Fr. Cotta is a long-time parishioner of Saint Brigid.  We thank him for answering the call to serve as a shepherd and we pray that Our Lord will bless him and guide him in his priestly ministry.  He is challenged to embrace this call to priestly service with love and joy.  Fr. Cotta's first assignment will be as parochial vicar at Immaculate Heart of Mary parish in Atlanta.  He will begin there on or about July 1.
As previously noted, during his time as Pope, Saint John Paul II published a powerful and insightful Apostolic Exhortation called, "Pastores Dabo Vobis" which means "I Will Give You Shepherds."  In this writing, he reminded us that God promises His people that He will never leave them without shepherds to gather them together to guide them.  He also reminded us that Jesus, the Good Shepherd, entrusted to the Apostles and their successors the ministry of shepherding God's flock.  He also stated that priests play a vital role in shepherding the flock and are essential to the mission of the Church.
The following "Prayer for a Newly Ordained Priest" provided by the media outlet "Prayerist" asks Jesus to guide and bless those He has chosen to embrace the priestly vocation:
O Jesus,  eternal Priest, keep Your priests within the shelter of Your Sacred Heart, where none may touch them.
Keep unstained their anointed hands, which daily touch Your sacred body.
Keep unsullied their lips, daily purpled with Your precious Blood.
Keep pure and unearthly their hearts, sealed with the sublime mark of the priesthood.
Let Your holy love surround them and shield them from the world's contagion.
Bless their labors with abundant fruit and may the souls to whom they minister be their joy and consolation here and in heaven their beautiful and everlasting crown.    Amen.
As we celebrate the ordination of Fr. Cotta, please continue to pray for priests and ask Our Lord for an abundance of holy, happy, and healthy priests to guide and shepherd the Church of tomorrow.