This Sunday, the Third Sunday of Advent, we celebrate Gaudete (Rejoice) Sunday as we wait in joyful anticipation of the coming of the Christ Child.  As we wait, we continue to strive to prepare ourselves spiritually.  In our Sunday gospels during Advent, the call to prepare for Christ comes primarily from John the Baptist.  He, in essence, tells us to acknowledge our shortcomings and failures, repent of our sins, and change our hearts.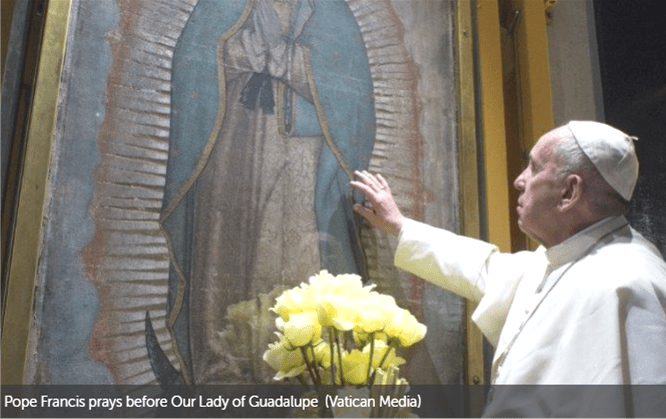 We also celebrate on this day the feast of Our Lady of Guadalupe.  She is the patroness of the United States, Mexico, and all of the Americas, as well as the protector of the unborn.  She is a religious as well as a cultural figure to the people of Mexico.  In 1531, she appeared in a vision to a humble peasant farmer named Juan Diego near Mexico City.  The appearance of Our Lady of Guadalupe helped generate the conversion of Mexico and Latin America to Catholicism.  Her feast day is celebrated with great joy and enthusiasm throughout the Americas.
As reported by the media publication "Inside the Vatican", in a general audience in a prior year, on the feast of Our Lady of Guadalupe, Pope Francis called on the people of the Americas to embrace the joy of the Gospel in the spirit of Mary as he stated, "This is the message of Our Lady of Guadalupe, and this is my message, the message of the Church.  I encourage all the inhabitants of the American continents to hold open arms like the Virgin Mary, with love and tenderness."  Reflecting on the special nature of the season, he further stated, "May the joy of the Gospel always be in your hearts."
In addition to the feast of Our Lady of Guadalupe, we also call to mind another important event during this Advent season.
This coming Saturday, December 18th, at  9:00 AM we will celebrate a Memorial Mass for our beloved former pastor, Monsignor Paul Reynolds.
He served as a priest in the Archdiocese of Atlanta for over forty years.  Msgr. Reynolds was a man of great insight and wisdom who had a way of putting people at ease.  He was pastor of several parishes in the Archdiocese including Saint Brigid, where he served from 2006 until his death in 2010.
As we continue to go forth during this Advent season, as we reflect on the example of Our Lady of Guadalupe, and as we remember Monsignor Reynolds, may we truly embrace the joys and blessings of this season as we continue and persevere on our Advent journey of faith.