What does PSR look like for the 2021-22 year?
We are now planning for in person formation.  We will also continue offering a Family Catechesis. The opportunity to learn together as a family and to incorporate daily activities in a faith-filled manner will help all family members grow as disciples. "Like a wise teacher, Jesus takes hold of us where we are and leads us progressively toward the Father."    (Catechism of the Catholic Church, paragraph 2607)  God invites us to be in relationship with Him and we want to help you encounter and develop a friendship with Him.  As we are able to plan more definitively we will notify all registered families.
It is a gentle approach to see God at work in your life.
Each family registered with PSR will receive a customized Family Faith bag that will contain the materials and activities needed to share our Catholic faith with family members.  The Family Faith bag will be self-contained, it will provide all the necessary materials needed for the month. The Family Faith Bags will be available to pick up at church starting in early September.
Please don't give in to the temptation to "skip a year"!  There is no better time than now to focus your time and love in seeing God present in our lives! Let Saint Brigid PSR be the bridge for your faith journey.
While we hope to foster an environment of lifelong formation for both children and adults; we do adhere to the Archdiocesan guidelines that require two years of formal formation either in PSR or Catholic school as preparation for the reception of First Reconciliation and First Holy Communion during the 2nd-grade year.   In 1st grade, all children intending to prepare for sacraments should be enrolled in PSR or a Catholic School.    If you missed participating in PSR during your child's first-grade year, don't worry we can start where we are and can still complete the two-year requirement.   For each child enrolled in PSR, we must have the current year's registration form completed and baptismal documentation on file to process the registration.  No child will be turned away due to financial constraints; please talk to us about payment options and discounts.  If you have questions please contact the PSR staff, we are happy to help!
Registration for 2021-2022 is now open.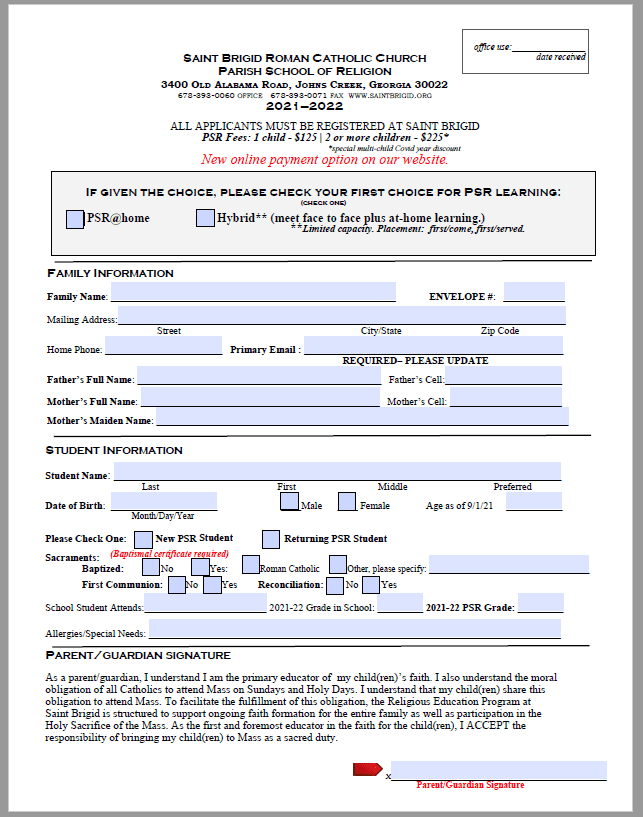 Fill out this registration form, print and drop off at the Parish Office with your check or you may save it on your computer, attach to an email addressed to the PSR Registrar, sdavidson@saintbrigid.org.   If you are choosing In Person formation check the Hybrid option.
You may pay securely online.  

From Mass to Mission Video Series