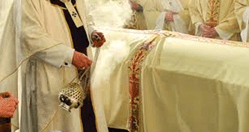 As Catholics, and as a faith community, we have great reverence for the dead.  Recently in our faith community, we have experienced the passing of many of our faithful.  Fortunately, our parish is blessed with a compassionate and loving bereavement ministry.  Members of the ministry strive to assist, in many ways, the families who have lost loved ones.  They generally meet with the family for a planning meeting shortly after the death of their loved one, with a member of our clergy present.  When appropriate, they can assist family members in coordinating arrangements with a funeral home, and answer questions about a possible wake service.
Ministry members are especially helpful in planning for the funeral Mass.  They can assist the family in choosing the readings and hymns for the funeral Mass, help with photos and programs, and assist with other necessary details for the funeral.
The text for the funeral rites comes from the "Order of Christian Funerals."  The text states that at the funeral Mass, the community gathers with the family and friends of the deceased "to give praise and thanks to God for Christ's victory over sin and death", to commend the deceased "to God's tender mercy and compassion, and to seek strength in the proclamation of the paschal mystery".   We, therefore, strive to gather reverently as a faith community at the funeral Mass.   After the funeral Mass, a member of our clergy is usually available to preside at the burial site for the "Rite of Committal" if the family so chooses.
Most of us know someone in our community who is grieving at this time over the loss of a loved one.  We may know parishioners, friends, neighbors, relatives, and others who are in mourning.  In the spirit of Pope Francis, we can especially reach out to widows and widowers, those who have recently lost a spouse.
Most of us are usually attentive to families at the time of the funeral of a loved one.  But as time passes, our attentiveness may wane.  We are encouraged to be more aware that people grieve in different ways.  They grieve for different lengths of time.  We are encouraged to strive to become more sensitive to those who are truly grieving and assist them in their time of healing.  Maybe we can visit them periodically, or call them occasionally, or invite them to a Church or community function.  What may seem as small gestures by us may be viewed as thoughtful acts of kindness by them.
May we as a faith community strive to continue to honor our deceased loved ones in a special way as we answer our call to discipleship.  Visit for more info: www.saintbrigid.org/bereavement.