The Men of Saint Brigid has been providing beautiful Christmas trees to the Saint Brigid community and local neighbors since 1999. The tree sale is one of our two largest fundraisers for our ministry. Before shopping at a commercial tree lot, please consider buying your Christmas tree from the Men of Saint Brigid, where all the proceeds help ministries and charities with the Saint Brigid community and Archdiocese of Atlanta.
Tree Lot Hours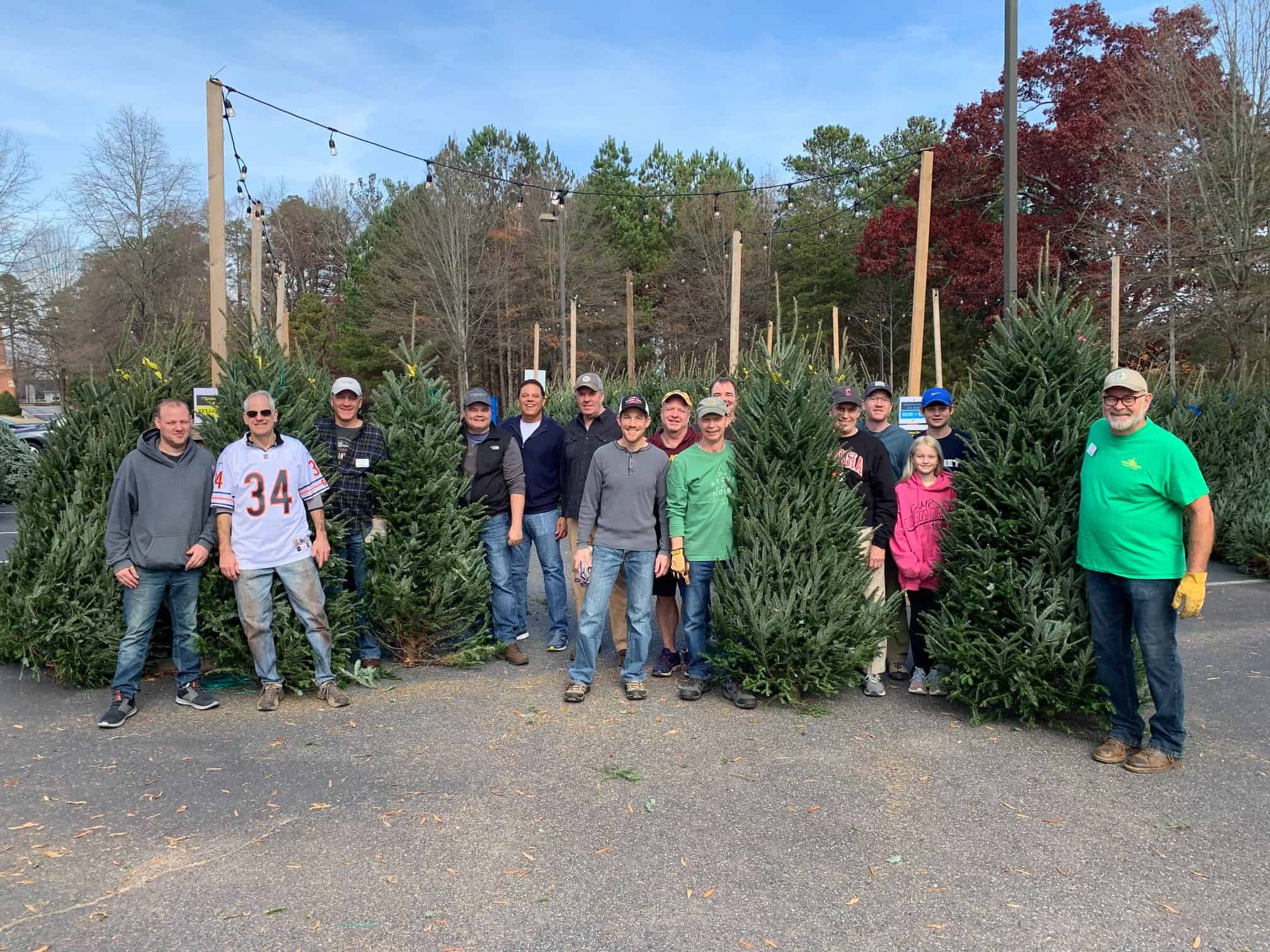 Opening Day for the Christmas Tree lot is the Friday following Thanksgiving, November 26.
Hours of Operation are 10:00 a.m. to 9:00 p.m.
Regular Operating Hours:
Schedule November 27 – December 19
Thursday/Friday: 5:00 p.m. – 8:00 p.m.
Saturday/Sunday: 10:00 a.m. – 9:00 p.m.
Closed Monday – Wednesday. Lot open while supplies last
Saint Brigid Church address: 3400 Old Alabama Rd, Alpharetta, GA 30022
Sizes & Prices
The Christmas Tree comes in four sizes to fit any household environment. We also offer Christmas wreaths measuring 24″ in diameter.
Frasier Firs – 6 to 7 feet = $89
Balsam Firs – 7 – 8 feet = $109
Frasier Firs – 7 to 8 feet = $109
Balsam Firs – 8 – 9 feet = $139
Balsam Firs – 9 – 10 feet = $169
Frasier Firs – 10 to 11 feet = $300
Frasier Firs – 11 to 12 feet = $350
Christmas Wreaths – $35
Preorder pricing (10% off) is available through November 23rd
Fund-a-Tree
There are many families in our community that go without a Christmas tree each year due to the cost. You can help those families by donating to the Fund-a-Tree campaign.  This is a new initiative by the Men of Saint Brigid to spread Christmas JOY as far as possible in our community.  Any amount of contribution is greatly appreciated.  We will handle all the logistics of coordinating with the families and make sure they have a Christmas Tree to enjoy this holiday season.  Thank you for your support!
Delivery Available
You may elect to have your Christmas Tree delivered.  Simply indicate "Delivery" on the order form.  There are fees associated that are based on tree size, set-up, and timing of delivery.  All delivery fees are paid by check at the time of delivery, not in advance.  You will be contacted about confirming delivery details.
Volunteers needed
It takes a community of volunteers to make the Christmas Tree Sale a success.  Volunteers are divided into teams and assigned a small number of shifts to lighten everyone's load. The tree lot build will occur Saturday, November 20th.  If you're interested in helping out this year, please contact David Adams at: dadams0623@gmail.com.
---
Other MOSB Pages
Home  |  Monthly Meetings  |  Service Opportunities  |  Resource Center  |  Charity Challenge  |  Christmas Trees  |  Super Bowl Boston Butts |  Contact Us  |  Photo Gallery
---