Men of Saint Brigid Meeting – Monday to be announced, fellowship begins at 6:30 in Corbett Hall.
Gentlemen,
We hope this message finds you and your family safe, healthy and hopeful.  While we continue to navigate this 'new normal', we wanted to reach out and encourage you to consider ways to support the parish and the Men of Saint Brigid until it is, once again, safe for us to gather together as a community of brothers and believers.
As many of you know, we have rescheduled our biggest fundraiser, the Monsignor Reynolds Charity Challenge for Monday, October 5.  We still have some tennis spots available, and , as always, welcome sponsors and volunteers.  We 'leaned in' to our support for a number of ministries, donating almost $24,000 in April.  We know that, while our event will be different, our generous and faith filled patrons will help us restock our reserve.
Here are a few activities to consider to keep engaged and involved with the parish:
Ushers are needed for all Masses:  contact Jeff Cooney @ Jeffcooney3@gmail.com, we all appreciate the help in properly placing our parishioners during Mass.
Outside greeters are needed at all masses.  It is a great way to welcome your friends to Saint Brigid:  Contact Bill Stuhltrager @ stuhltrw@att.net.
Donate shelf stable products to our Saint Vincent de Paul pantry, there is a box outside the office for your contributions.
Give yourself the gift of Adoration- spend an hour in the real presence of our Lord.  Only scheduled guardians are currently able to Adore: contact Denise Ballard @ deniseballard@me.com to set up your hour (or two!).
Schedule a time for the grace of reconciliation, times are by appointment only- typically on Wednesdays and Saturdays:  Contact Susan Neppl @ sneppl@saintbrigid.org.
It is our faith in our Lord Jesus Christ that sustains us in these uncertain times.  Be patient, practice kindness, let your actions show everyone that we are His disciples!
God bless you and your extended families,
May you have Peace, Hope and Love.
Matt Curry and the MOSB Board.
(404)906-8325

Like us on Facebook:  Men of Saint Brigid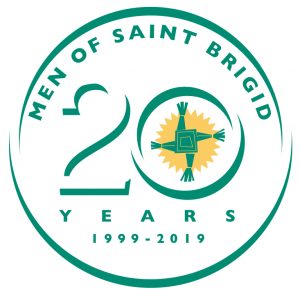 ---
Other MOSB Pages
Home  |  Monthly Meetings  |  Service Opportunities  |  Resource Center  |  Charity Challenge  |  Christmas Trees  |  Super Bowl Boston Butts |  Contact Us  |  Photo Gallery
---