Gentlemen,
Please plan on joining us for our November Meeting. It will be a special presentation from Deacon Henry Hein on the source and summit of our Faith; The Mass and the Real Presence of our Lord in the Eucharist. This is feedback from our input on the Synod. Join us for some food and fellowship as we are enlightened about the beauty of Mass and the Eucharist. Following Deacon Henry's presentation; we'll have an opportunity for Q & A.
As always, first timers eat free, as do those who bring a first timer. For those of you who visited us during the ministry fair, we'll have your name badges available for you at this meeting. As we continue our theme- faith in action, we'll also have opportunities for you to serve.
Our Christmas Tree lot build out will be Saturday, November 19 at 9:00 AM and we'll start selling our trees Friday November 25, the day after Thanksgiving.
Please join us Monday evening, November 14 at 6:30 PM. It should be an informative meeting and add clarity to the beauty of our participation in Mass!
God bless you and your families,
The Men of Saint Brigid Board
Matt Curry
President, MOSB
(404)906-8325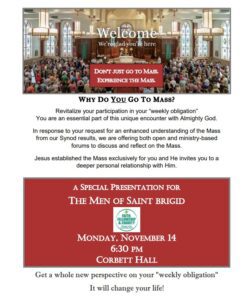 Like us on Facebook: Men of Saint Brigid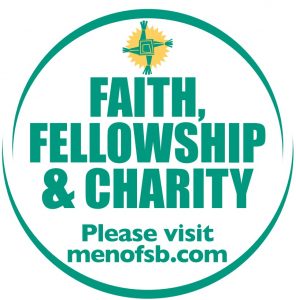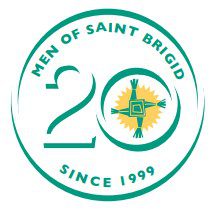 ---
Other MOSB Pages
Home | Monthly Meetings | Service Opportunities | Resource Center | Charity Challenge | Christmas Trees | Super Bowl Boston Butts | Contact Us | Photo Gallery
---